A few weeks ago I took a last-minute weekend trip to Prague for their 4th annual gay pride, Prague Pride. The festival included a jam-packed schedule of events over a week, including film screenings, political debates, parties and a parade. I would argue that Prague has been a gay hotspot destination for a while already, but this was only their 4th annual pride celebration. And for being such a young endeavor, it seemed to be incredibly well organized with a full spectrum of events for every type of visitor. I really loved it.
Gay pride in Prague was special not just because it was a small (though not too small) celebration, but also because there was a community feeling behind the pride. With political organizers and volunteers from Central European LGBT rights organizations taking the stage at several events, the pride felt as much about celebrating gay pride as it did about making positive societal change. And in a part of Europe that still needs reforms, that's as important as anything else.
Even in Prague, with its beautiful backdrops, history of pornography and relative liberal attitudes, gay rights still have a ways to go. This year's 2014 Prague Pride was even met with neo-nazi protesters at one point, though there were fewer than 10 and they were all removed relatively peacefully by police. I was further along the parade route when it happened and neither myself nor any of my friends even heard about the scuffle until hours later.
The highlight of Prague Pride 2014, though, was the mostly rain-free Saturday with a short parade route (under three hours) ending at the official pride park. Entrance was free in the park (a section of Prague's lovely Letná Park—visit if you can!) and included two stages with a varying quality of DJs, information stalls for various LGBTQ organizations and some of Prague's best food trucks. Day-dancing and day-drinking were all in the agenda and with friendly crowds and plenty of sunshine, it was a great way to spend a Saturday in Prague.
Prague in the summertime can be a hassle, but thanks to the huge variety of events during Prague Pride, I don't think I've ever had so much fun in the city. And in a city famous for its nightlife, that means a lot. Oftentimes, the Prague Old City is too crowded with tourists making the city feel a bit like Disneyland. But having already seen most of the tourist sites over my previous visits to the Czech capital, I spent my time seeking out more unique things to do and see. Things such as a queer art exhibition, an outdoor silent disco and each and every gay club & cafe I could find!
Traveling to Prague alone, I spent most of the weekend with a new friend I met through Grindr (as you do…!). Though I was also lucky because of Prague's proximity to Berlin, I actually stumbled into more than a few friends and acquaintances over the weekend. Despite thousands of visitors to Prague during the gay pride, it was possible to see and meet the same people in many of the same places. Pride organizers put together a tight program with heaps of good options on things to do, meaning many tourists were hitting up the same places.
Every gay club in Prague was packed throughout the weekend with special parties and events. I spent most of my nights at the city's most hipster gay club, Club Termix, which has long been one of my favorite European gay clubs since my first visit in 2011. It's got that charm of a college basement with funky stuff hanging from the ceiling (notably a car), a friendly mix of boys & girls, great music, a small pedestal for dancing (obviously where I spent most of my time!) and—this is important—free entrance AND cheap drinks. There aren't many clubs still like that!
Visiting Prague for a weekend during their pride was easily one of my summer highlights. The pride festival was one of my favorites of the European pride season and the city was as charming as ever. Probably more so thanks to the rainbows!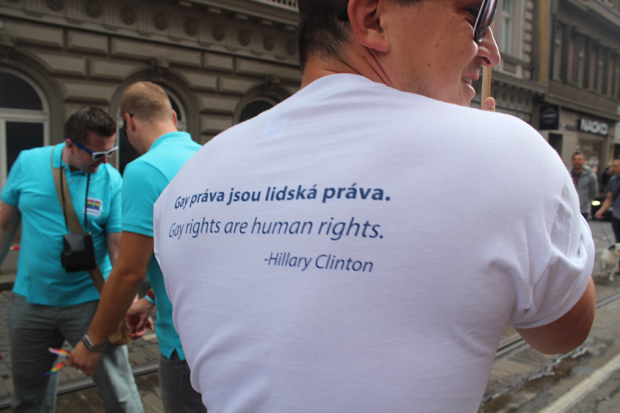 What You Need To Know
Prague Pride takes place in August each year. There are countless hotels and hostels in the city, but keep in mind August is still during the height of tourist season, so book early! Learn more about the gay pride and check the schedule for parties, events and more at praguepride.cz. More information about travel in Prague or the Czech Republic can be found on the official tourism website.