I'm happy to be hosting Round 11 of Photo Roulette. See below for details on the contest (it's easy I swear…otherwise I wouldn't be participating!) and to check out the submissions.
The previous round was hosted by Ken Kaminesky, and the theme was Urban. My photo from a window of NYC's Museum of Modern Art was the winner. So I get the special honor to do all the legwork this week!
Round 11 is…"Friday night"
This week's keyword is "Friday night" which could really be anything from drinking to dancing to blogging. Here's a sample to just get you going:
This contest runs from February 21 — February 27 and the winner will be announced on March 1. I'd really love to get as many entries as possible, so be sure to share this on Facebook and Twitter.
This contest is now over. To view the winner, click here.
Rules
The rules of the game are simple. The hosting blogger is the chosen winner of the previous week's (7 days) game. The new host chooses a generic keyword or phrase that other bloggers submit photos to during the course of the week. Phrases can be as generic as 'signs' all the way to abstract thoughts like 'religion' and everything in between. At the end of the week, the hosting blogger chooses their favorite photo that fits the chosen phrase and moves it to the top of the post as the winning entry with direction to the new host's site for the next round.
Readers can attempt to sway the author into picking a certain photo via comments, but the author (that's me!) can ignore comments as they see fit. The game is repeated with the winner hosting the following week's game and choosing a phrase for new photo submissions. The following is a list of the previously played rounds of the game and the hosting blogger for each. This list also doubles as a winner's table as each topic host won the preceding round! Click the host's link to go directly to that entry to see some stunning photographs from the chosen term/phrase!
Nov 4–10, 2010 Living the Dream – "Animals"
Nov 17–24, 2010 Skinny Backpacker – "Road Signs"
Nov 29–Dec 6, 2010 Dream a Little Dream – "Street Art"
Dec 8–Dec 15, 2010 Flashpacker HQ – "Festival"
Dec 17–Dec 24, 2010 Over Yonderlust – "Landmarks"
Dec 26–Jan 2, 2011 Don't Ever Look Back – "Beaches"
Jan 5–Jan 12, 2011 ThePlanetD – "Portraits"
Jan 15–Jan 22, 2011 Travel with a Mate – "Motion"
Jan 26–Feb 3, 2011 Johnny Vagabond – "Water"
Feb 8–Feb 15, 2011 Ken Kaminesky – "Urban"
The rules also state no Photoshopping, but consider that waived for this round. I love Adobe and if you've paid the money for the software, you better be able to use it!
To submit an image
Simply leave a comment below with a link (whether hosted on Flickr, Picasa or your own site…) which I can than attach to this post. When submitting an image, please provide a brief description or something for the caption.
Check back here through the week to see all the entries and comment on them. Can't wait to see what you've got! Ready…and go!
This contest is now closed. Click here to view the winner (link will be live on March 4).
The entries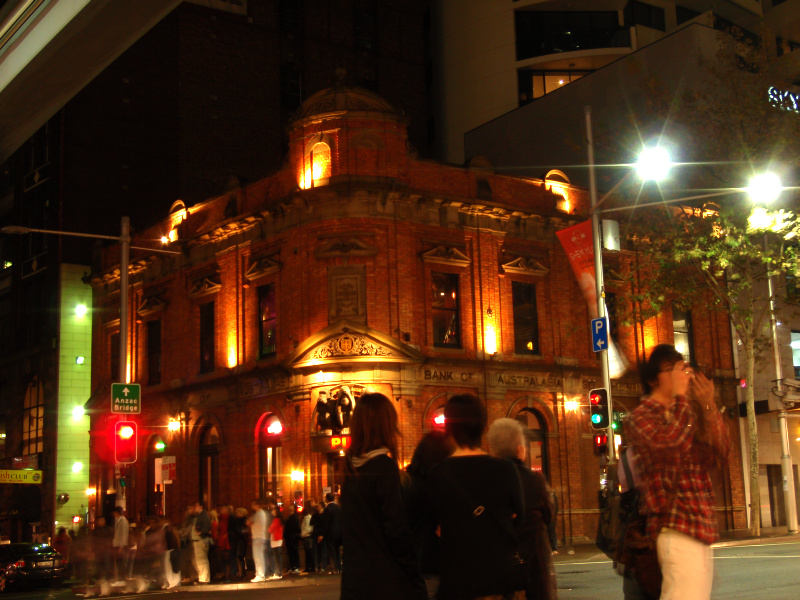 Dina from Vagabond Quest
Friday night crowds at the 3 Wise Monkeys Pub in Sydney, Australia
Nick from Locationless
Sunset on Fernandina Beach, FL
Erica from OverYonderlust
Osaka, Japan on the main street. I've never been as drunk as I had been there… shortly after this picture was taken.
Travis from Flashpacker HQ
Well, Friday night's the night you get out and celebrate the weekend which for many means hitting a club. Here's a montage of a few months spent shooting the clubs in Ibiza.
Bruce from 40 plus Traveler
Fireworks SCREAM Friday night
Jeremy from Living the Dream RTW
Friday nights are all about going out with friends. Couple that with travel, and drinking at a beer hall in Munich can barely be topped. This was taken in low light for the effect, but could just as easily double for the vision most people have after a night out in Germany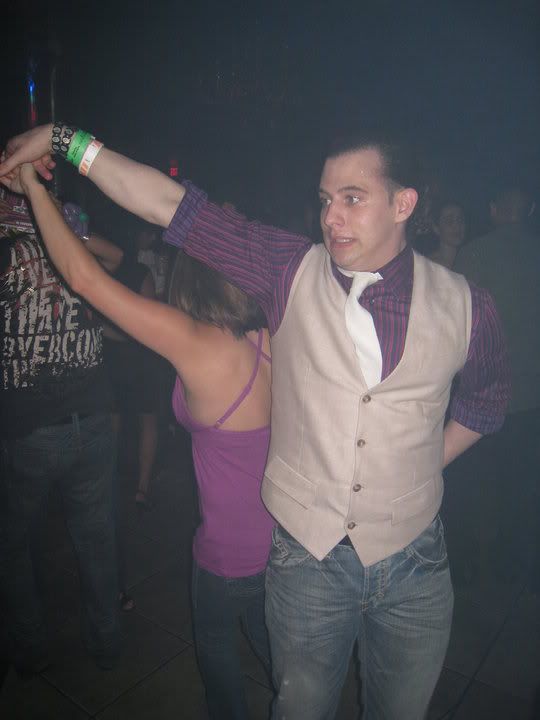 Marcello from WanderingTrader
I have the perfect pic for you! Friday nights in Latin culture is all about dancing and having a great time so I have a picture of my sister and I dancing salsa together.
Cailin from Travel Yourself
Here is a photo of me out dancing on a Friday night with a tambourine in hand and 3D glasses in check!
Cailin from Travel Yourself
This is also a favorite Friday night scene of mine late night at Piccadilly Circus in London as I ate McDonald's at the fountain in the middle with all of the other tourists.
Brendan from Brendan's Adventures
I have an entry taken last Friday night in Asuncion Paraguay.
Amy & Kieron from Don't Ever Look Back
Drinks at Clarke Quay, Singapore
Cam from Traveling Canucks
Vancouver Olympics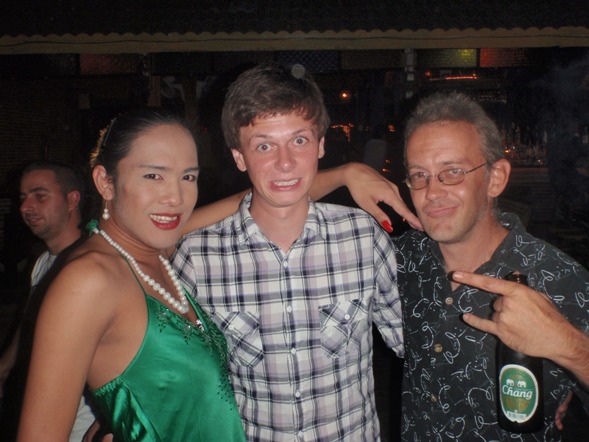 Poi from No Place To Be
Poi and……. well, I can't even begin to explain this.
Andrew from Grounded Traveler
Here is my thought on a Friday night out. Granted this particular night was awful, load and hot; but I love the way the picture turned out.
Backpacker Boy from Backpacking Destinations
Bombing around the streets of Bangkok in a Tuk Tuk at breakneck speed. So much nightlife, so little time…
KimKs
Friday night in Bangkok's Chinatown. Just down the street is the BEST seafood around. :o)
Ian from Mallory On Travel
This is taken at sunset (obviously) from the UNESCO recognized Djemaa el Fna square looking towards the La Koutoubia mosque which means the Booksellers Mosque!
Kristian from Itchy Feet Chronicles
This is a Friday night in Liverpool, UK. Not bad considering this was the last photo I'd taken that night and I'd had quite a lot of beer by that point!!
Becs from Travels at 88mph
Typical Friday Afternoon/Night after work in New Zealand. I miss wine o'clock!
Lilliane from Wanderlass
It was five-thirsty on a Friday Night. It's time for beer sampling!
Deidra from Dream a Little Dream
A sea of color, sound and dancing can be found in a dark mountain forest on a friday night in August at the Shambhala Music Festival in Salmo BC Canada.
Manyu from Shutter Feet
Walking down the streets of NYC Friday night, I chanced upon a bunch of people looking up in awe at something. I followed their lead and came across a rare sight for a tourist; a full moon shining right next to a colorful Empire State Building. Not my favorite photo in a photographic sense but definitely one of my luckiest captures. Really glad I was carrying my camera.
Christy & Kali from Technosyncratic
This photo was taken last night on New Orleans' Bourbon Street. There's still another week to go until Mardi Gras, but that doesn't seem to be stopping anyone from getting their party on. Huge drinks, dancing in the street, and lots of quintessential Mardi Gras beads (and the shenanigans that go along with acquiring them)…. it was quite the entertaining Friday night! :)
Stephen from Bohemian Traveler
The Hite was too much for this guy on a Friday night in Gwangju, Korea