San José, Costa Rica, is a small and chaotic city frequently neglected by both tourists and locals. In fact, most Ticos are more-than-happy to share their disgust about the capital, calling it ugly and eagerly willing to point out all the deficiencies and problems of the small capital city. And contrary to whatever Hollywood tried to make you believe (looking at you, Jurassic Park), San José is not located near the beach. San José is actually surrounded by pretty, bluish hills and mountains (and volcanoes!).
So that's why, instead of showing up to Costa Rica and heading straight for the beach, I opted to explore the capital city for a few days to try and debunk the things I'd read and heard. Chepe (that's what Ticos and Ticas call San José) was surprisingly cool and hip. I found it to be a much more interesting city than my Lonely Planet guidebook would lead me to believe.
7 Reasons to Visit San José
A Culture of Coffee and Beer
While Costa Rica is mostly known for its natural beauty, San José is an urban space like most contemporary cities: full of hipster Costa Rican coffee shops and craft beer bars. For foodies, visit Barrio Escalante, where the Paseo Gastronómico La Luz is located. This street, one of the best preserved neighborhoods in San José, hosts a variety of breweries, small cafés and vegan restaurants.
While Imperial is the brand of beer most promoted in local advertising, the real attractions are all the new craft beers. For Costa Rican craft beers, try Segua or Maja Dera. The pub Stiefel, located next to FANAL (former Costa Rican national brewery) in Barrio Amón, is one of the best places to enjoy craft beers. They also serve salty fries and big hamburgers.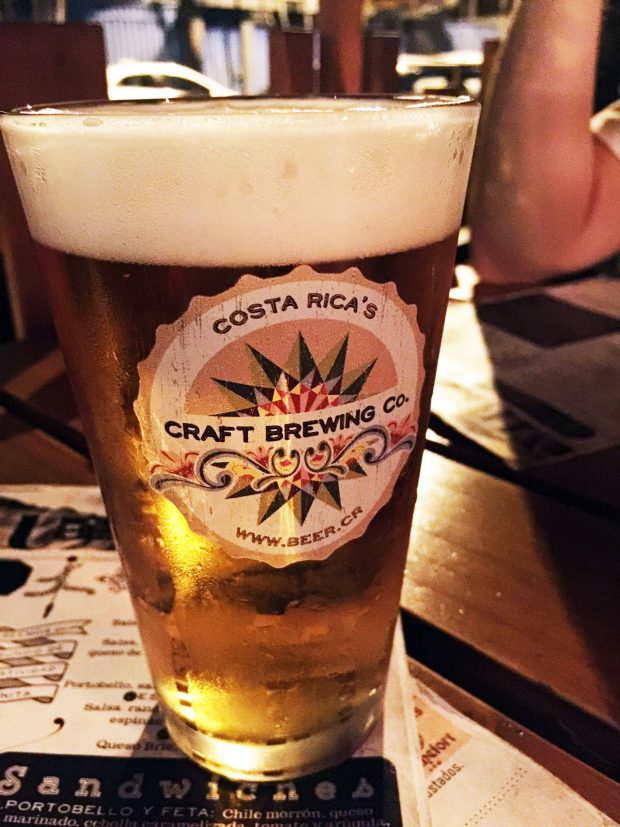 One of Central America's Most Gay-Friendly Destinations
While Costa Rica is a Catholic country by Constitution, recently there has been a lot of movement regarding basic gay rights. The gay community in Costa Rica is largely welcoming and politically active. Like any big city, San José is home to a number of different gay clubs—the kind pumping out techno music and full of sweaty boys and their girlfriends. El Bocho (Bochinche), located near Plaza Víquez, is a disco bar with several dance floors with always at least one DJ playing electronic or pop music.
To those who want to try their salsa lessons, La Avispa plays exclusively salsa music for gay and lesbian couples until late at night. It's one of the few LGBT clubs in San José that caters to both men and women. El Trece is a personal favorite though, with its Planchatón nights featuring a sort-of collective karaoke. It's a fun venue great for those that want to sing along to Latin American music from the '80s and '90s, mostly with lyrics about broken hearts and emotional disappointments.
El Trece is located opposite at least one other gay bar on the same corner and within walking distance to El Bocho. While most of San José's gay-friendly bars are located in an area popular with pickpockets, the crowds at these gay clubs are social and fun.
A Haven for All Types of Art
Costa Rican museums and galleries in San José are easily accessible and make up some of San José's most popular tourist attractions. Even if visiting just for a day or two, you should dedicate a couple of hours to visit some of the best. Under the famous Plaza de la Cultura, next to the Teatro Nacional, lies the Museos del Banco Central.
The collection includes some Pre-Columbian vases and metates (stones), but the real protagonist of the museum is the gold. A permanent exhibition features the first Costa Rican coins, while temporary exhibitions on the premises feature contemporary art. The mix of ancient art, currency and contemporary art makes it a fun museum for most interests.
For those who want to deepen their knowledge of local and ancient culture even more, the Museo de Jade, located only four blocks away and next to the Plaza de la Democracia, also offers a collection of Pre-Columbian art—consisting of jewelry and other objects made of these pretty, green stones.
[box]
Related: A Beginner's Travel Guide to Costa Rica
[/box]
For those more political and passionate about modern art, the Museo de Arte y Diseño Contemporáneo is one of the most important cultural centers in the Latin American region. Located inside FANAL, the museum offers both permanent and temporary collections, including video art, installations and photography. In the heart of the über-cool Barrio Amón, the gallery TEOR/ética combines art with political statements, representing not only Costa Rican and Central American talent, but emphasizing current trends of Latin American modern art.
Green Spaces for the Pura Vida Lifestyle
For a country famous for their wildlife, it shouldn't be a surpise that San José downtown has a lot of little parks scattered throughout the city. Many Ticos use these parks to have a pause, enjoying the sun and relaxing for a bit. The Parque Nacional, located next to the Parliament, hosts a large sculpture commemorating one of the few battles taking place in Costa Rica. Today, the country proudly has no armed forces, having abolished them in 1948.
The Parque Morazán is home to the Templo de la Música—a perfect place for enjoying the chill "pura vida" attitude of the local Josefinos. On the other side of the town, the Parque Metropolitano La Sabana, is a great spot for tourists as it's located nearby many of San José's most popular hotels. The La Sabana park is the perfect spot for wandering with small, peaceful lakes and several options for sport activities—as well as a the Museo de Arte Costarricense featuring works of art by local Ticos and a small sculpture garden.
More than Nightclubs to Visit at Night
Costa Ricans love to be entertained and there are lots of options to enjoy quality theater, dance and music in San José. For those who want to practice their Spanish skills, you can visit any of the theaters in town. The Teatro Nacional, Teatro Melico Salazar, Teatro de la Aduana and Teatro 1887, are all government-owned venues with both small and large theater productions.
The Teatro Nacional is also a popular tourist spot during the daytime, with an unique architecture uncharacteristic to Central America. Inside you'll find paintings of banana plantations and sculptures inspired by Greek mythology.
For those interested in dance performances, visit the Teatro de la Danza which frequently offers great choreographies combining both classic and modern techniques. For alternative cinema, the Sala Garbo includes a fine selection of world cinema with an emphasis on showing independent productions with political issues. Other cinemas in San José regularly show moves in English with subtitles.
While many of the pubs and restaurants have nice live music performances from time to time, one of the best spots for music is the always popular Jazz Café. From calypso to rock and Costa Rican pop, Jazz Café offers a great atmosphere and big beers in its two locations both in San Pedro and in Escazú neighborhoods.
San José's Markets — Great for Eating and Shopping
Surrounded by commercial stores, the Mercado Central is the go-to place for buying craft art, souvenirs and sorbet ice creams. The little stores inside the market offer everything from pork and beef cheap lunches to stuffed sloth toys and funny T-shirts with parrots. The little sodas (or restaurants) located inside serve exclusively Costa Rican traditional cuisine—and often substantially cheaper than other restaurants in San José.
Look out for olla de carne, casados or tamales on the menus and don't forget to taste the delicious sweet-sour fresco de cas. Smoothies, called batidos in Costa Rica, are a great reason to stop in the market in the middle of a hot day. Another great option to buy souvenirs, hats and hammocks is the Mercado de los Artesanos, located next to the Plaza de la Democracia. This is a small street of sidewalk tents where artists sell their work.
Getting Out of San José
While San José has plenty of its own charms and special quirks, one of the best reasons to visit is also its' proximity to a number of Costa Rica's best tourist attractions. The fact San José s located in the middle of the country makes the capital a convenient place when coming, going and transferring to other parts of Costa Rica. The capital is immediately surrounded by three other urban provinces: Cartago, Alajuela and Heredia.
You can always jump on a bus or rent a car and within a half hour from San José (depending upon the city's traffic), you'll find yourself in another city, the chance to explore more of Costa Rica's hospitality. If you're looking for Costa Rica's natural beauties, Costa Rica is small enough to allow you to escape to the Caribbean in three hours, or to enjoy the sunny Pacific weather in less than two hours from San José downtown. Of course, these driving times are related to the region's regular traffic jams.
Be aware of the popular term, hora tica, which refers to everyone always being late. But hey—there's another phrase you need to know in Costa Rica. That's pura vida—the "no worries" phrase of Costa Rica and one you'll quickly adjust to.
• • •
Not everyone includes San José on their Costa Rica itinerary, but with its' tropical climate and cool culture, it's a great place to get oriented and explore for a few days. Two or three days may suffice for the hurried traveler, but there's enough to see and do in San José to fill much more time. Add in that pura vida and hora tica attitude, and it's a proper haven for expats and longtime backpackers! For a full Costa Rica itinerary, read my Beginner's Guide to Costa Rica.