For those of us who prioritize our fitness routines and hit the gym regularly, our workout clothes become an essential part of our lifestyle. And at my gym, Equinox in Williamsburg, what you wear is almost as important as the workout itself.
The right attire not only enhances our performance but also boosts our confidence. As a semi-experienced gym enthusiast who sweats it out 3-4 times a week at a luxury fitness center, I've curated a list of the best workout clothes for gay men. For those of that want to show off a bit while also getting in a quality workout.
From bike shorts to crop tops, here's a breakdown of the must-have apparel that will take your gym style to the next level.
The Best Workout Clothes for Gay Men
Best Bike Shorts: Short Inseam Adidas Black Shorts
When it comes to bike shorts, the short inseam Adidas black shorts are unrivaled in both style and functionality. Designed with moisture-wicking fabric, these shorts provide optimal breathability while offering a supportive fit.
Their sleek design and comfortable waistband ensure maximum mobility during intense workouts. Whether you're cycling or hitting the weights, these shorts are a winning choice. I actually buy women's Adidas black running shorts to make sure I've got a short enough inseam.
Best Tank Tops: ASOS Brand tanks with big arm openings
To showcase those hard-earned biceps, opt for ASOS brand tank tops with big arm openings. These tanks strike the perfect balance between comfort and style, allowing unrestricted movement and ample armpit ventilation. I prefer the ones with the big arm openings because they look sexier.
The ASOS range offers a variety of colors and designs, making it easy to find the perfect tank to match your personal style while flaunting your muscles.
Best Running Shoes: Adidas, HOKA, and More
When it comes to running shoes, comfort and support are paramount. Brands like Adidas and Hoka consistently deliver exceptional performance footwear. Adidas combines style and functionality, offering a wide range of options for different running styles.
HOKA on the other hand, is known for its superior cushioning and shock absorption, providing an excellent choice for those with joint concerns. I don't know when HOKA became so popular, but I see the shoes all the time in the gym these days and they look good!
Best Leggings: Matador Meggings
Men's leggings, or "meggings," have gained popularity in recent years. Matador Meggings offer a fashionable and functional option that allows for maximum movement and flexibility.
With moisture-wicking and quick-drying materials, these leggings keep you comfortable throughout your workout, while their bold designs make a statement in the gym. Embrace your adventurous side and try out these game-changing leggings.
Best Crop Tops: Homemade
For those who dare to push fashion boundaries, homemade crop tops provide an opportunity to showcase your creativity. With just a pair of scissors and an old t-shirt, you can create a personalized and unique gym garment that complements your physique.
Experiment with different cuts and styles to find the crop top that reflects your individuality while keeping you cool during your workouts.
Best Underwear: Calvin Klein Micro Stretch Brief
Comfort and support are crucial in every aspect of your gym attire, including your underwear. The Calvin Klein Micro Stretch Briefs combine a snug fit, soft fabric, and excellent support, making them an ideal choice for your workout sessions.
Their moisture-wicking properties help keep you dry, while the elastic waistband ensures a secure fit, giving you the confidence to power through any exercise routine. Plus they always accentuate the right features and Calvin Klein is one of the favorite brands for gay men.
Best Yoga Pants: Alo Yoga
Yoga is not exclusively for women, and Alo Yoga recognizes that. With their wide range of men's yoga pants, Alo Yoga provides comfortable and stylish options for every yogi.
Their high-quality materials offer flexibility, breathability, and moisture-wicking capabilities, allowing you to move with ease and focus on your practice. Embrace the benefits of yoga while looking effortlessly cool in Alo Yoga pants.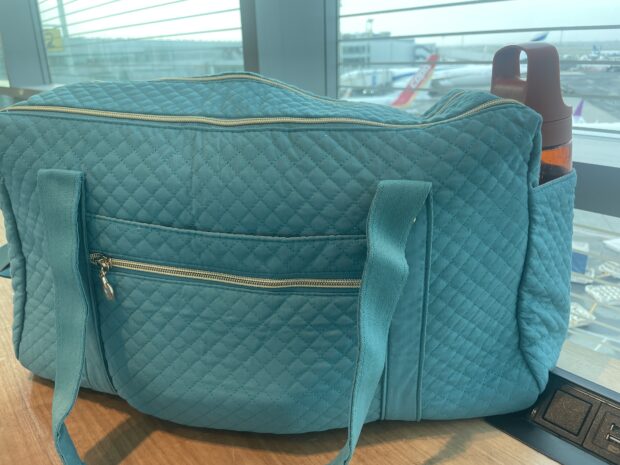 Best Gym Bag (when coming from the office): Zoraesque Tote by Bagsmart
For the busy professionals who hit the gym straight from the office, having a versatile and stylish gym bag is essential. The Zoraesque Tote by Bagsmart is the perfect companion for those transitioning seamlessly from work to workout.
The Zoraesque Tote offers a sleek and sophisticated design, making it suitable for both professional and gym environments. Its high-quality materials ensure durability, while the spacious interior provides ample room for your workout essentials, including your change of clothes, shoes, and toiletries. The bag also features separate compartments and pockets, allowing you to organize and access your belongings effortlessly.
It includes a dedicated padded laptop compartment. The bag also has multiple smaller pockets for your phone, wallet, and other essentials, ensuring everything has its place and is easily accessible. The bag's discreet branding and neutral color options further enhance its versatility, seamlessly blending into any office or gym environment.
Pictured above: the Zoraesque Duffel Black which is a bit bulkier than the tote bag but equally good for traveling between the office & the gym
Best Hats: Any baseball cap
When it comes to headgear, you can never go wrong with a classic baseball cap. Whether you prefer a snapback or a fitted cap, this timeless accessory adds a touch of sporty sophistication to your gym ensemble.
Choose a cap that represents your favorite sports team or features a minimalist design to complete your workout look while shielding your eyes from bright lights.
Best Sweatband: Nike Dri-FIT Headband or any bandana
To keep sweat at bay during intense workouts, a reliable sweatband is essential. The Nike Dri-FIT Headband offers both style and function with its moisture-wicking fabric.
Its stretchy yet secure fit ensures that it stays in place, keeping perspiration from interfering with your focus. Stay cool, dry, and stylish with this essential gym accessory.
Alternatively: sometimes I just use a bandana to catch the sweat, especially in the summer. I prefer ones that make me obviously look gay in case I can catch anyone's attention for a possible date (ahem, in the sauna, showers, or…later).
---
Investing in the right workout clothes can significantly enhance your gym experience. Whether you're rocking short inseam Adidas black shorts, ASOS brand tanks, or Calvin Klein Micro Stretch Briefs, your gym attire should offer comfort, style, and performance.
Don't forget to check out Matador Meggings, Alo Yoga pants, and explore your creativity with homemade crop tops, bandanas, hats, or whatever other accessories to show a bit of style in the gym.
Elevate your gym style, and let your attire reflect the confidence and dedication you bring to your workouts.