I've stayed in a number of gay hotels around the world, and truth be told, they've all been a bit sub-par. There's a seemingly counter-intuitive understanding in the industry that because a gay hotel or resort simply needs to be gay to attract clients, it doesn't need much else for the upkeep. For a long time, gay resorts were safe havens where visitors could be out, open, and comfortable.
But today, in a lot of the world, those needs for safety aren't nearly as important anymore—or even relevant. Thanks to increased sensitivity from hoteliers, and a committed effort by the tourism industry as a whole, much of the world is safe for gay and lesbian travelers today.
This summer, the CHIC Punta Cana resort turned rainbow for a week. It's not an always-gay resort, but for nearly a week, the resort went all out. Hosting the first ever Caribbean Pride, CHIC Punta Cana invited drag stars and DJs to create a super-gay atmosphere. Rainbow flags throughout the property; from the moment I stepped onto the resort, there were LGBT flags and pride/love symbols everywhere.
While there were plenty of guests on the resort who were there especially because of the gay festival, there were plenty of other heterosexual guests who just happened to be lucky enough to visit the same week. During my long weekend stay, I spoke to a few heterosexual couples from the USA and they were loving it. More than a few even competed in the swimsuit fashion contests and late-night parties.
Groups of gay guys traveled from North America for the Caribbean Pride festival; there were couples and (myself included) a handful of solo travelers.
The whole week (at least the weekend I was there), had a gay vibe throughout. Cute boys in speedos were in no short supply and the music was as good as it was trashy. It's just what you want out of a gay resort weekend.
Check some of the photos below from my super-gay weekend at CHIC Punta Cana. My visit was hosted by the resort and you can read more about my weekend here.
[box]
Caribbean Pride 2017 was the first of its kind from resort management company, Blue Diamond Resorts. There have been other Pride celebrations throughout the Caribbean, but this was the first event hosted by Blue Diamond and CHIC. Caribbean Pride 2018 is already set for September 15—22. Toronto's international drag sensation, Miss Conception will perform for the second year in a row. DJ Johnny Dynell is also on the books and boasts over three decades of experience spinning thousands of nights both in the United States and overseas. More information about Caribbean Pride can be found on their official website.
[/box]
Caribbean Pride Highlights
Miss Conception — Canadian drag superstar Miss Conception hosted a night of drag on the beach, plus the vast majority of the daytime events including a swimsuit competition. She was equally hilarious and fun. A regular performer in Toronto, her presence at Caribbean Pride really made the event fun for everyone—the few heterosexuals included!
Foam party — Okay, I'm a big sucker for foam parties no matter what, but the one at Caribbean Pride (on a Saturday afternoon) was over-the-top. Giant beachballs, unicorn floats, a live DJ, and free cocktails—what's not to like?! This was the best of the pride parties—great atmosphere!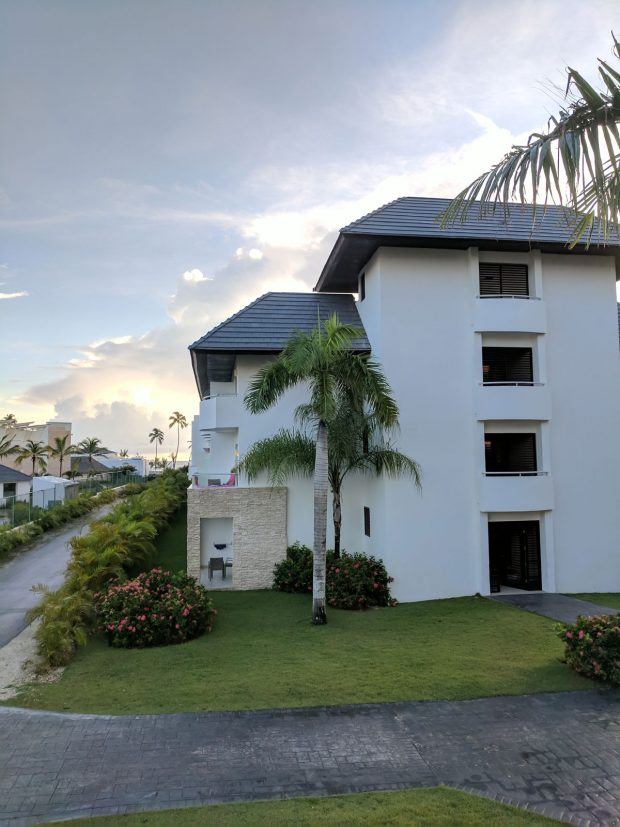 The rooms — This was my first time at an all-inclusive resort, and my first visit to the Dominican Republic, so I wasn't sure what to expect. CHIC Punta Cana has all the amenities you'd expect of a luxury hotel but without the stuffy attitude. My room, part of the VIP suites, had a large, private balcony and a lot of space for me to make a mess (and host a visitor on at least one occasion). Some of the more luxurious rooms even had their own private pools (next time, please!).
The beach — There's a private beach part of the CHIC Punta Cana resort and it's fantastic! Soft sand, coconut cabanas, shade where you need it and—yes—unlimited food and drinks available for guests! The water was fantastic, warm and a gentle slope into the sea.
The food — Okay, so the resort buffet is as you'd expect—a little bit of everything. The food was good, maybe not the absolute best food you'd get, but it certainly hit all the right spots. Fresh fruit every morning, elaborate buffet dinners and chicken wings all day, every day. There are four different restaurants (including as part of the resort fee) on the property and my favorite was the steak restaurant (not a big surprise, there!) with a great selection and some of the best food I had for the weekend.
The drinks — A never-ending supply of alcoholic beverages in a tropical resort: perfect. Besides having bottles of rum, whisky, and vodka available in my room, the poolside service and a swim-up pool bar were definite highlights. During the day, staff would occasionally bring around speciality drinks for everyone by the pool, such as coconuts (with rum) and rainbow-colored drinks. By the end of my trip I had a whole series of photos of me holding cocktails by the pool in just about every color imaginable.
More Caribbean Pride Photos
Below, a random assortment of safe-for-work photos from my weekend!