Travel tips and suggested things to do on a day trip to Dessau, Germany – from a graphic designer's perspective
I don't know what took me so long to visit Dessau. Perhaps just the fact that Berlin is busy and exciting enough, I never really thought to leave — even if just to a city less than an hour away. Or maybe I just was afraid to visit a city that I'd read so much about, that I'd studied and been inspired from.
You know that feeling when you're about to meet an idol? Someone or something that's had a profound impact on your life? That pit in your stomach — "will this live up to my expectations…," "will it shatter my beliefs…," "will it affect me as it already has…"
I was excited and nervous to visit Dessau and when I finally made it there last month, I don't know what I was so worried about. Dessau was just what I wanted.
If you're not a design nerd like me, you might not have heard much about Dessau. It's a part of German history often overlooked for bigger, scarier histories. But when I rolled up to Dessau Bahnhof on a brisk spring evening and saw the signs for "Bauhaus" and "School," there was a bit of excitement in my step. I made my way to my hotel — but I wasn't going to walk the direct route. I wanted to walk past the building I'd seen in my art history books.
With my rolly suitcase dragging behind me I made my way up Bauhausstrasse (seriously – I knew I must've been in designer heaven!). The street was nearly empty, though I passed a few lone souls.
Not far from the bahnhof it became immediately apparent this wasn't your stereotypical German town. This was a new kind of city. A once-modern one, now normalized thanks to its profound influence on art & design in our world.
Ba-ba-bauhaus
The Bauhaus movement (and yes, I think we can call it a movement) started in Weimar, Germany in 1919. Founded by German architect Walter Gropius, it began as a school of art & design that encapsulated not just building or architecture, but all aspects of the creative arts. Bauhaus students didn't just learn how to create art, architecture or design, but they learned a whole new way of thinking.
Every detail was important — from the typography to the color. The Bauhaus school, as it was formed by Gropius, became an instrumental driver in new modernist ways of thinking, as well as (obviously) architecture and design.
Though the Bauhaus school began in Weimar, it soon moved to Dessau and that's where many of the most famous Bauhaus buildings are still located.
That's because the city of Dessau recognized Gropius and the other revolutionary thinkers from the Bauhaus design movement for what they were: revolutionaries. Maybe the Bauhaus school didn't start a war, but it certainly caused a schism in design — and eventually changed the way we live today.
Founding such a revolutionary way of thinking made the Bauhaus teachers more than a few enemies during their time, so they were continuously exiled in the German cities they called home. The conservative education system in Weimar expelled them from the city after just a few short years which is how they ended up in Dessau. A city which supported them generously and gave them land to build their revolutionary designs. Up to a point.
The Bauhaus movement didn't last forever in Germany. With the rise of the National Socialists (the Nazis), the Bauhaus school was eventually disbanded. Many of its most influential members moved abroad and taught at other foreign universities. The spread of the Bauhaus thinkers across the world led to a sort-of revolution in graphic design.
Visiting Dessau? What You Need to Know
Things to see in Dessau
It's a small city, yes, but there are plenty of great Bauhaus sites to see in Dessau. With just a day in Dessau, I went with the leisurely option and just made for the two main sites, the Bauhaus Museum and the Masters Houses. Then I spent the rest of my afternoon wandering around, taking photos and exploring the city on foot.
Bauhaus Building & Museum (G

ropiusallee 38, bauhaus-dessau.de, 12€ combined ticket with the Masters' Houses)

— Start your day in Dessau here because the ticket office and gift shop will help you plan your visit to all the major Bauhaus sites.

They also offer guided tours to rooms normally closed to the public. Ask at the front desk. Otherwise you can visit the museum (which also includes regular special exhibitions) about the history of Bauhaus design in Dessau. The Bauhaus Museum has been designated a UNESCO World Heritage Site.

Masters' Houses (Ebertallee, meisterhaeuser.de) — Just down the street from the Bauhaus Building (and Museum) are the four masters' houses (duplexes which housed seven different residents). These were houses designed by the Bauhaus masters & teachers and where they lived while teaching at the school. Famous residents included Gropius himself, László Moholy-Nagy, Paul Klee, Wassily Kandinsky, Mies van der Rohe and Josef Albers.
The houses have also been included on the UNESCO World Heritage list because of their unique contributions to architectural design. Getting the chance to walk through the very same houses where these revolutionaries once lived might not seem exciting, but when you see the unusual interiors you really start to appreciate what these professors contributed to our world today.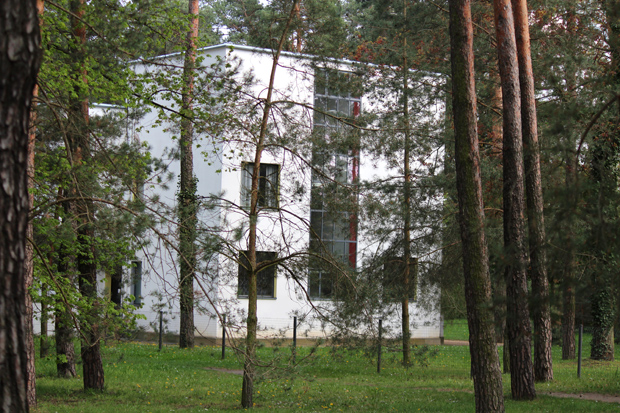 Bauhaus Photos from Dessau
Travel Tips
GETTING THERE: Trains arrive & depart to/from Dessau regularly. Check bahn.com for your best possible routes. From Berlin it's just over a 2-hour train ride so it's possible to visit on a day trip.
GETTING AROUND: Dessau is relatively easy to visit, even on a day trip from Berlin. The train station is centrally located within the city and most of the main tourist attractions are within walking distance from one another. The city is also very flat, so if you rent a bike (or bring your own), you can cover a lot more distance and see many more of the architectural sites with ease.
WHERE TO STAY: There seem to be a handful of guest houses and small hotels in Dessau which cater to international tourists. Use booking.com to search for the best deals. I stayed at the Hotel 7 Säulen, a small hotel located just across the street from the Masters' Houses and which provided free bike rentals. The staff there were very friendly (and very patient with my German skills!) plus were able to recommend a decent Greek restaurant in the neighborhood for a late-night dinner.
Dessau isn't a big city, but it does have a sizable population. The Bauhaus tourist sites are on the opposite side of the train station as the main/new city center so keep in mind that what little nightlife there is and most restaurants are farther away than may be expected.