From the moment I stepped onto the resort, I knew this was going to be a good weekend. It was raining outside, the air extra-humid.
A man helped me with my bags while I waited in a room that seemed to be overflowing with that kind of faux-luxury.
Some sort of luxury car in the center of the main hall, a maze through shops and display cases to get to the premium check-in. Local jewelry for sale seemingly everywhere.
I'd just landed in the Dominican Republic no more than an hour earlier. Going through immigration, picking up my luggage, finding my private airport transfer and the drive from the airport to the resort took no more than an hour. Quick. Easy. No hassle.
The start of that perfect, easy kind of holiday.
I can count on one hand how many times I've stayed at a hotel resort and this was going to be my first time at an all-inclusive. The idea intrigued me—especially because I was traveling solo.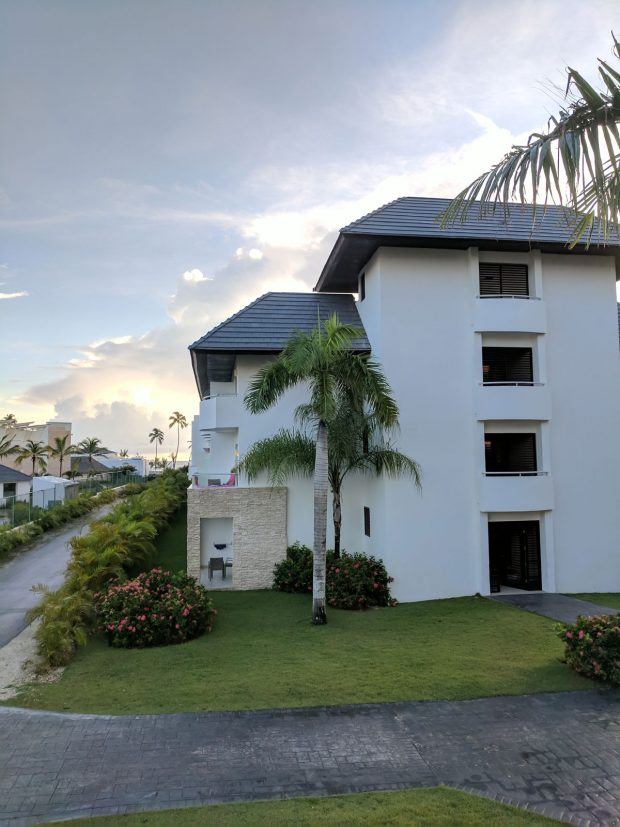 Once I was checked in and brought to my room (illuminated in pink), I still didn't fully comprehend what an adults only, all-inclusive resort was really going to be like.
I imagined watered-down cocktails at the beach bar and a buffet dinner. But as I soon found out, this was so much more.
While it rained that first night, I curled up in my room after a quick visit to the buffet dinner (an assortment of fresh seafood, sushi, steaks and pizza/pasta). Back in my room I found my silk bathrobe (so lush) and the secret stash of unlimited alcohol.
As the weekend progressed, I found more and more things available to me—including an oxygen bar (how 90s!) and unlimited 24-hour room service (uh oh).
The CHIC Punta Cana (now renamed and part of Royalton Resorts)) is the type of place that attracts repeat visitors. Over the course of the weekend, I'd meet a few people who had either been to the very same resort before, or one of the other ones along our stretch of beach here in paradise. But this weekend, this resort was going to be different.
The all-inclusive hotel was playing host to the first annual Caribbean Pride – a week of over 50 different LGBTQ pride events.
Picture this: a world-class hotel resort with drag queens, trashy pop music playing late into the night, fashion contests, foam parties, and hundreds of gay men from around the world. Yep, it wasn't hard to see the appeal for this trip.
I'm often traveling with other bloggers and journalists on trips like these, but this time I was solo. With an unlimited supply of food and alcohol 24 hours a day.
You can bet I ordered room service at 2am one night for a cheeseburger and fries. The resort's four on-site restaurants served a variety of meals—the best being a steak restaurant—all included in the resort fee.
Now, I know what you're thinking. This is the easy kind of travel. And you're right. I sat by the pool one day in a lounger half-submerged in the water.
As I was reading my book (and subtly watching the sexy Asian hunk to my right with his gaggle of girlfriends), an endless stream of cocktails came my way. There were piña coladas, rum and cokes, coconut rums, something pink, something tropical.
At one point, there was a foam party—complete with unicorn floats and a group of gay guys from Puerto Rico. I spent my weekend at the all-inclusive resort moving between lounging and partying—as I suspect the best all-inclusive holidays go.
I was able to finish my book I brought along with me, met some fun and flirty gay guys from Toronto, and managed to chat up a few more from elsewhere.
The spirt of the Caribbean Pride event was casual—people moving around the resort alone or in small groups, surprisingly easy to chat up others, and the resort staff were ridiculously social, funny, and friendly.
My resort weekend was one of casual cocktails, a steady flow where I was neither drunk nor sober for two full days. Sun and sunscreen and a frequent supply of fresh water were essential.
Paradise is supposed to be easy.
The all-inclusive resort travel style is pretty far from how I usually travel. But with a weekend mostly disconnected (except for the occasional Grindr check-in) and an easy-going atmosphere, it was easy to see the appeal. I wouldn't want every holiday of mine to be like this, but for sure, once a year seems appropriate.
Maybe I didn't get to taste much of the local culture (okay, I didn't see anything beyond the borders of my resort), but that was partly my fault: Nexus Tours was on-site offering various excursions throughout the country (and even a boat trip), but I spent my three days on holiday with absolutely no intention to explore.
Sometimes you just need that escape from escaping. And I think I earned my right to have a lazy holiday in the sun. Sometimes that's all we need to decompress from this crazy world.
CHIC Punta Cana is open year-round with over 300 stylish rooms and suites. The hotel is located beachside with a large central pool area (with four separate freshwater pools). Part of award-winning Royalton Luxury Resorts, CHIC is both elegant and relaxed with a casual atmosphere—perfect for that adults-only holiday. My visit to CHIC Punta Cana was sponsored by the resort.