Eindhoven is a city that might not be on your list when you plan a trip through Europe, with most people visiting other cities in Holland such as Amsterdam, The Hague, or even Rotterdam.
It's the type of place with its hidden cafes and beautiful streets, with its chill and diverse atmosphere that makes Eindhoven a hotspot for creativity and innovation.
And its artistic heritage and innovative spirit make it a friendly and open destination for all types of travelers.
Since my first visit to Eindhoven, I've fallen in love with this little European city. It's cozy, convenient, easy to wander, and there are so many amazing design shops and cool cafés, affordable restaurants, and great art.
I've been the past two years to Eindhoven during Dutch Design Week—an annual event when thousands of artists, designers, and creators flock to the city to discover the best of what's new in the design world. It's always a great event and a sign of the city's commitment to creativity.
THE WEEKEND GUIDE TO EINDHOVEN
Getting to Eindhoven
It's only an hour+ train ride to Eindhoven from Amsterdam, with trains just about every 25 minutes all day, every day. With an all-day Holland train pass, you can get there and back (and stopover where ever you like) for under 40€—a great deal for high-speed train service. But Eindhoven is also well-connected around Europe with its airport servicing hundreds of other European cities with direct routes from budget airlines like RyanAir and easyJet.
Things to Do in Eindhoven
At the heart of creative Eindhoven is the Strijp-S district: the former home of the electronic Philips factory. The former headquarters and warehouses have been transformed into residential units, with a local market, street art and surprising architecture (with plenty of street art murals and graffiti, too!).
The Strijp-S is one of Eindhoven's most important cultural districts—easily reachable from the city center with a short bike ride, a 20-minute walk, or a 5-minute bus ride. The area transforms into a designer's paradise each autumn during the annual Dutch Design Week—a celebration of international design and designers.
One of Eindhoven's top cultural attractions is the Van Abbe museum. Open to all type of publics (even remotely with digital access online), the museum frequently hosts queer exhibitions and artworks that invite you to reflect about sexual freedom, diversity, and gender politics.
When visiting, guests are invited to wear colorful kimonos and to smell paintings—a way to make the museum more interactive. The museum café is architecturally beautiful with huge windows decorated with colorful art.
In Eindhoven, it's impossible to separate the creative and the innovative character of the city from its passion for design.
One of the most interesting venues where this comes together is the Kazerne, a restaurant that changes its menu according to season and comprised not only of local makers and producers but a building that doubles as an art gallery with works by local artists. Kazerne is at the same time a lab, a gallery, and a fine dining restaurant.
For more design shopping, don't miss the Piet Hein Eek showroom (and restaurant) just on the outskirts of the city center.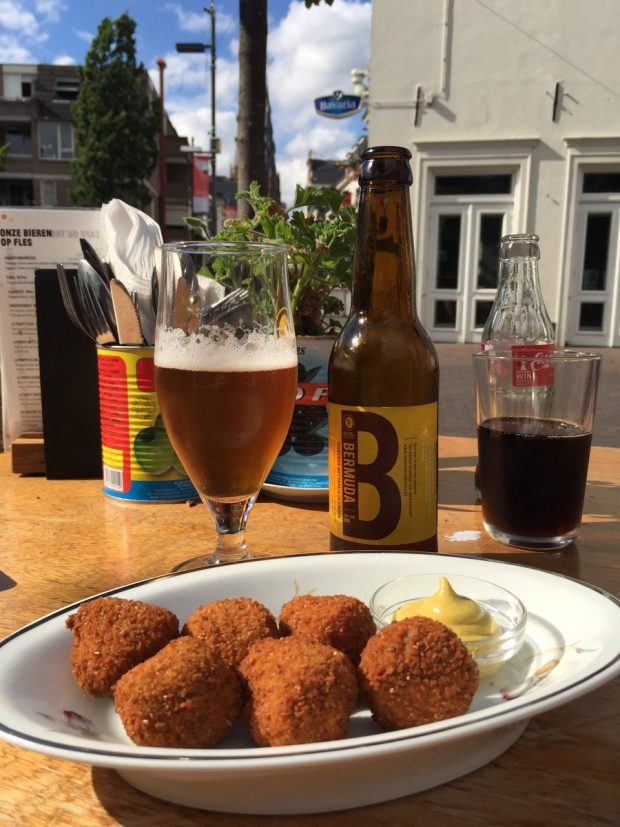 Where to Eat, Drink, and Party
Eindhoven's city center is great for shopping, dining and wandering. You can sit in a café in one of the many plazas, but the Markt Eindhoven is frequently the best to visit, with young and sexy people drinking wine or beers and enjoying the sunny days at the restaurants and bars around the plaza.
Pallaz is Eindhoven's most popular gay hangout—good for dancing, drinking and chatting with the locals, but almost every café, restaurant and bar in Eindhoven is open to all types of people.
Eindhoven's creative spirit shows through in every aspect in the city. Look out for the independent makers and craft breweries. The Stadsbrouwerij Eindhoven and Van Moll are great options for trying new craft beers and buying drinkable souvenirs for home.
Don't miss the Down Town Gourmet Market—a collection of food trucks serving everything from Tex-Mex to dumplings, as well as a few local craft beers in the outdoor bar. (There's also indoor seating for colder nights.)
As a pretty young and hip city, you'll find lots of late-night eateries, too. The city was even the first in the Netherlands to get a Taco Bell (don't judge me), which opened in 2017. For more fine dining, however, the restaurant Usine offers a hip hangout with a great variety of food.
The bistro and bar Calypso, in the city center, is an affordable option during the day with great café options and light snacks—and in the evenings, it turns into a chill hangout with events, occasional live music, and a relaxed crowd.
Where to Stay
Steps from the Eindhoven central train station, the Student Hotel operates a multi-story hotel that dominates the skyline. While it offers long-term housing for students, the upper floors also operate as a hotel.
A ground-floor lobby, bar, and restaurant serve as a fun and funky lounge with bright lockers and art books scattered amongst the design furniture. Rooms are comfortably sized and come with condoms available for free in the room. While the Student Hotel is great for young travelers, it offers a fun escape for a weekend adventure.
The Glow Hotel Eindhoven is a small boutique hotel property on the eastern edge of the city, walking distance to most of the main sights and even closer to the Kazerne restaurant and bar. Even though there is no restaurant on sight, the hotel offers breakfast in a nearby café each day and a lovely view over the city's downtown skyline.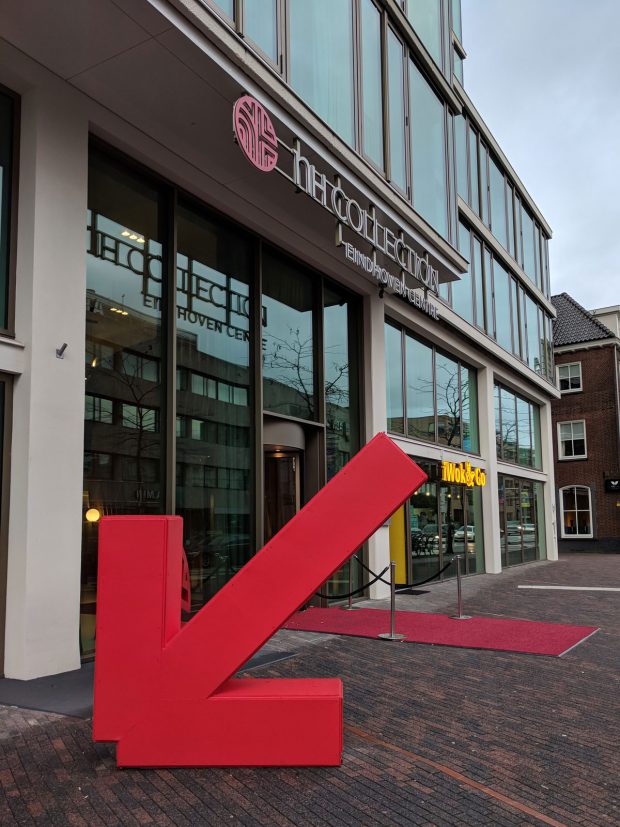 For a more luxury hotel experience, the new Hotel NH Collection offers an incredible property with panoramic views and well-designed rooms. In the city center, it's convenient to reach most major attractions. Rooms are spacious with floor-to-ceiling windows. Corner rooms are especially nice with designer furniture, and up on the top floor is a restaurant and bar with 360-degree views.
• • •
For more about Eindhoven, checkout my other Eindhoven travel stories, or visit the city's official tourism page.