Puerto Rico is one of the top LGBTQ travel destinations thanks to a warm and friendly local population and a lot of great gay bars, clubs, and activities year-round. Use the gay travel guide to Puerto Rico below to help plan a trip to San Juan and other parts of the gay-friendly Caribbean island
Of all the Caribbean islands, Puerto Rico is one of the most accepting and LGBTQ-friendly destinations. As an unincorporated territory of the United States, same-sex marriage has been legal since 2015. And with over three million inhabitants, Puerto Rico has plenty of gay and lesbian activities, bars, and attractions for visitors to easily discover. There are even two different pride parades each year on the island!
Most of Puerto Rico's gay bars and LGBTQ activities happen in San Juan—Puerto Rico's capital city. Because of its large, urban population and its many gay neighborhoods, it's one of the best parts to visit for LGBTQ travelers.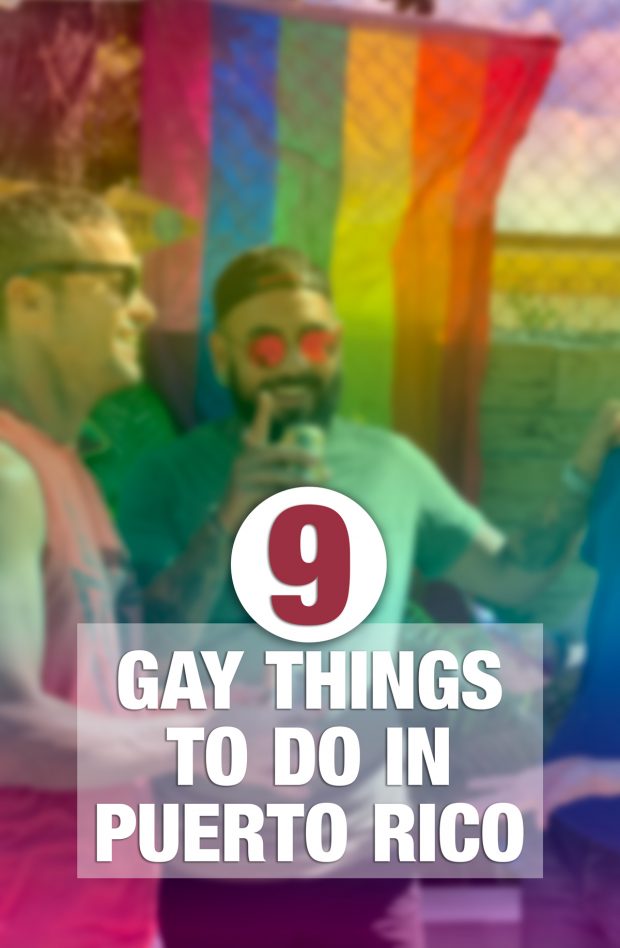 Because of Puerto Rico's Catholic traditions & history, the big cities are probably the safest and most comfortable hotspots for gay travelers and LGBTQ locals alike. But other parts of the island, including Cabo Rojo on the west, and the Vieques island off the eastern coast are also popular LGBTQ destinations.
9 Gay & LGBTQ Things to Do in Puerto Rico
• • •
1. Stay at the LGBT-owned Coqui del Mar
This boutique guest house (which is also 420-friendly) is located in the Ocean Park neighborhood of San Juan, one of the few many gay neighborhoods of San Juan. Because Coqui del Mar is LGBT-0wned, it's a great place to start a Puerto Rico gay trip.
The Coqui del Mar has studio and fully-furnished holiday apartments with all your necessary hotel amenities, plus some! Free wifi, free parking, free bike rentals, flat-screen TVs, full kitchens, an outdoor BBQ grill available to guests, two swimming pools, and a hot tub! The bright decor of the property and friendly staff on site, plus its location in Ocean Park, make it a great choice for travelers looking for a multi-day stay to really discover San Juan.
• • •
2. Visit during San Juan Pride at Condado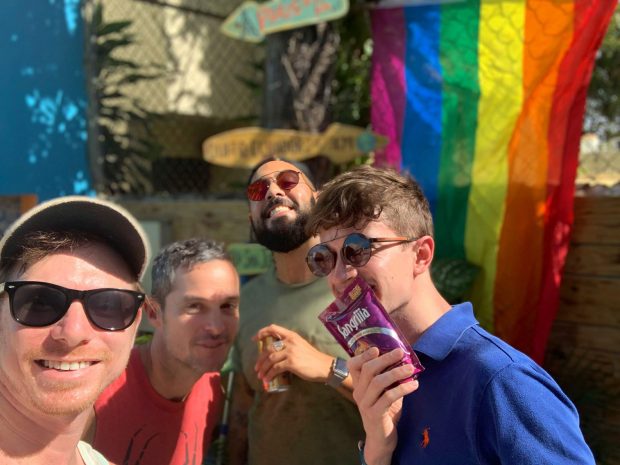 Always the first weekend of June, San Juan's annual pride festival, San Juan Pride, is a weekend of parties, special events, and shows. San Juan's gay bars along Calle Condado all put on their own parties and events, but the beach clubs at Condado Beach (including Atlantic Beach Hotel and Oasis Bar) also host afterparties following the parade.
Following Condado Pride in San Juan, the Cabo Rojo Pride festival takes place the second weekend of June. During the Cabo Rojo Pride, the sleepy beachside town turns into a weekend of parties, a nice comedown from Condado's pride the weekend before!
Parties during San Juan's Pride usually start the Thursday before the Sunday-parade. This year, there's even a Naked Gay Weekend event—a clothing optional weekend with pool parties & more—during San Juan Pride (see more below).
• • •
3. Try your luck at Drag Bingo & win sex toys
San Juan's most popular gay bar is Circo Bar—a raucous gay club on Calle Condado. It's very popular with tourists, but don't worry because locals show up, too!
Circo Bar hosts Ru Paul's Drag Race viewing parties and is especially popular on weekends for their late-night dancing with some of the city's top DJs, but Thursday nights are also a good night to visit. Every Thursday, Circo Bar hosts Drag Bingo during which you can win sex toys and other fun things. With every drink purchase, you get a bingo board so the earlier you show up and the more drinks you get, the more chances to win you've got!
Drag Bingo is hosted in both English and Spanish so it's great for tourists—and a fun opportunity to hang with locals.
• • •
4. Party Thursday nights at the queer student clubs
The Eleanor Roosevelt district is a little further south than the other San Juan gay neighborhoods of Condado, Santurce, and Ocean Park, but every Thursday night it comes alive with the city's LGBTQ population. Because of the very cheap drink deals on offer, and the lively street life, it's especially popular with San Juan's many university students. The bars of El Cojo, A Pedir De Boca, and La Esquina de Polo are all on the same corner of Avenue Eleanor Roosevelt and Calle 12 de Octubre.
Each of the bars spills out on the streets—especially during good weather—and the cheap drinks make them great spots to start a night out, around 9 or 10pm before heading to other club nights. The bar on the corner, also labeled Flavor's, is especially popular with lesbians.
These are pretty local gay & lesbian bars, and because you're a bit further out from the central San Juan neighborhoods, you might not find many tourists in the area. It's a really social vibe with lots of fun pop and dance hits on the small dance floors; the perfect opportunity to meet locals.
• • •
6. Spend Sunday on the Gay Beach in San Juan
In San Juan, there are two main gay beaches. The most popular is Atlantic Beach in Condado which is especially gay every Sunday after 11am. Groups of friends, LGBTQ families, and tourists flock to the beach every Sunday.
San Juan's other gay beach is at Ocean Park Beach in front of the Numero Uno Guesthouse. It can be a bit cruisey late on weekend nights, according to Coqui del Mar's staff. Outside of San Juan, a naturist beach is about 40 minutes west at Cueva las Golondinas.
• • •
7. Enjoy tiki cocktails at Jungle Bird
San Juan's gay neighborhood of Santurce is one of the most lively and energetic spots in the city. It's a gay-friendly area with many bars and clubs taking over the streets round La Placita square turning it into a pedestrian-only zone. Street food, salsa dancing, and cheap drinks are the norm here—and it's very crowded!
But just around the corner from La Placita is the super hipster Jungle Bird 404 tiki bar. The fun and funky atmosphere, and elaborate cocktails, make it a comfortable escape from the street bustle. An outdoor patio makes it especially popular with groups of friends. It's one of San Juan's best cocktail bars.
• • •
8. Party at San Juan's gay bars & clubs every weekend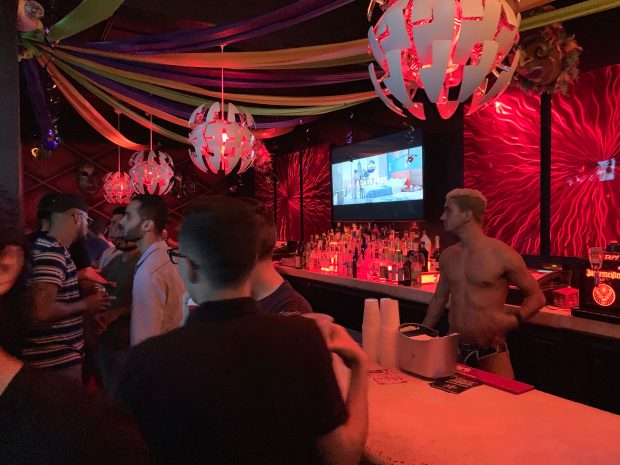 San Juan's gay nightlife is a lot of fun, and most of it happens Friday and Saturday nights along Calle Condado in the gay neighborhood. Circo Bar runs late every weekend and attracts some of the biggest crowds as the night ends, so to truly enjoy San Juan's nightlife, start elsewhere and end your night at Circo.
Across form Circo, you'll find VIP—a smaller gay club, and just around the .corner is the SX Club. In the basement, SX is a stripper and go-go club that sometimes charges a cover. Bring cash for tips.
Outside of Condado, The Bear Tavern is just off the hipster street of Calle Loiza (where you'll find many diverse restaurants and bars). Catering to bears, The Bear Tavern hosts drag shows and crowds are often hanging out on their front patio most nights of the week.
For current gay club and gay nightlife listings, check with locals. There aren't many resources, unfortunately, but I found staying at a gay guesthouse helped point me in the right direction for the best places to party.
• • •
9. Catch an alternative queer night at El Local
One of the coolest nightlife spots in San Juan is the El Local bar in the Santurce neighborhood. It's one of the most LGBTQ-inclusive spaces with weekly drag shows (including drag kings) and occasional karaoke. It's a trns-friendly space with cheap drinks in a hipster dive setting. It feels a lot like attending a house party, made even more realistic because or the mismatched furniture and glass cases displaying LGBTQ products for sale.
• • •
Puerto Rico is a great gay destination. It's been popular with LGBTQ travelers for years, thanks to its proximity to the mainland USA with affordable flights, and a rich Latin culture. The beaches, many gay bars, and friendly locals make it even more welcoming.
For more travel tips about Puerto Rico, see my photos from San Juan, Puerto Rico.