San Juan is the best place to visit in Puerto Rico for a number of unique and cool things to do—from salsa dancing on the street to enjoying local bars and restaurants, it's a great weekend destination for a city break
At the heart of Puerto Rico is the capital city of San Juan. It's a lively, colorful city. The most populated part of the island, it's the business and economic center, but also the historic home to Puerto Rico's history.
San Juan was initially founded in the 16th century by Spanish colonists. The city, and the island of Puerto Rico, wasn't incorporated to be part of the United States until after the Spanish-American War. Even without full statehood, it's an important part of the American identity.
Puerto Rico has a rich culture, history, and heritage. The beautiful, tropical island continues to attract visitors from around the world for its one-of-a-kind wildlife, easy access, and unique history. And it all starts in San Juan.
Cool Things to do in San Juan, Puerto Rico
On an island of millions of people, San Juan is an exciting and unique destination. There are countless historical and cultural activities to do in San Juan, so no matter how long your visit (whether a weekend city break or a Spring Break holiday), it's a great city for any type of traveler.
Below are my personal recommendations on the best—and the coolest—things to see and do in San Juan.
---
1. Stay at the boutique Coqui del Mar hotel for a truly local experience
Located in the Ocean Park neighborhood of San Juan (just 15 minutes from the airport and 15 minutes to Old San Juan), the Coqui del Mar guest house offers an opportunity to experience San Juan like a local.
The property is just across the street from Ocean Park Beach, and a short walk further to Condado Beach, but as a local, independent property, its real appeal is in the hotel's amenities.
At Coqui del Mar, you'll get a taste of a true Boricua (Puerto Rican) experience with a number of cool, on-site activities. The hotel offers Puerto Rican cooking classes, as well as an evening mojito-making class!
Rooms are all apartment-style with fully-equipped kitchens (and a BBQ grill next to the pool for use by the guests). Pick up some groceries at the shop nearby (or at any of the boutiques in Old San Juan), and live like a local at the hotel. Free bike rentals and plenty of space make it the perfect place to base yourself for a San Juan trip.
—AD—
Coqui del Mar isn't just a place to sleep in San Juan—it's also a hub for fun activities and festivals. The two swimming pools (one of which is clothing-optional) provide the perfect entertainment space for guests and visitors.
The hotel hosts several LGBTQ pride events and parties during San Juan Pride from May 30 to June 3, some of which are exclusive to guests. Read more about it here.
In the winter, Coqui del Mar hosts Winter Pride—an LGBTQ pride event in December when it's still summer in Puerto Rico! With DJs, drag shows, pool parties, and special discounts on activities, it's a great chance to explore San Juan.
---
2. Try the local foods at El Jibarito
In Old San Juan, the super-local El Jibarito restaurant is a casual eatery but it's always crowded. Popular with locals as much as tourists, it's a great place to try traditional Puerto Rican foods.
Inside, it can be a bit noisy as people are coming and going—but that's the appeal! On the menu, you'll find classic dishes like mofongo, plantains, and even a Christmas special dish available year-round.
It's an affordable restaurant option in a largely touristic area—and a truly local experience.
---
3. Have a night out bar-hopping San Juan's coolest cocktail bars
Here's a secret about Puerto Rico: they know how to make a good drink. Okay, that's probably not a secret. This is the home to Puerto Rican rum after-all! (You can even take a day trip out to the Bacardi rum factory for a tour.)
In a city that's home to rum, it's no surprise then that there'd be so many cool cocktail bars. One of San Juan's coolest bars is a semi-secret one. Travel guides call it a hidden speakeasy, but it's actually pretty easy to find. Mostly because EVERYONE knows it and loves it.
La Factoria (148 Calle San Sebastián) is in the back room of a corner bar. You'll find it by walking past the main bar when you enter and slipping between the barkeep's entrance and the bathroom door.
Another one of San Juan's coolest bars is JungleBird (254 Calle Canals). Just around the corner from the loud La Placita is this super hipster tiki bar. The fun and funky atmosphere, and elaborate cocktails, make it a comfortable escape from the street chaos.
An outdoor patio makes it especially popular with groups of friends. It's definitely among San Juan's best cocktail bars.
---
4. Cure your late-night hunger with street food snacks
San Juan is a lively and fun city—so it's no surprise that the parties, clubs, and bars are open late. But when hunger strikes, don't worry! The restaurants and street vendors stay open just as late!
On the weekends, La Placita is always bustling with people drinking and dancing on the streets, and there are plenty of street food vendors to provide snacks.
La Alcapurria Quemá (251 Calle Duffaut) serves a lot of local foodie favorites but they're best known for their alcapurrias—a fritter made of yucca and filled with any assortment of meat. (Try the corned beef one!) It's sure to preemptively cure any hangover!
---
5. Enjoy a Gasolina on Condado beach
On an island famous for their rum, it makes sense that it'd be readily available. (Puerto Rico's legal drinking age is 18, fyi) At every grocery store and most convenience shops and gas stations, you'll find ready-to-drink, pre-mixed cocktails in a pouch. There are a few different brands, but I really liked Gasolina.
It's sugary and sweet, but strong! (And isn't that what matters?!)
You can buy them buy the box or sometimes individually in the shops. My hotel had some available to buy from the front desk. Grab a few and freeze them if you can, and then take them with you to the beach (it's what the locals do).
You'll find they're great to have for a day at the beach because they're so portable (and stay cold if you freeze 'em). Just remember to throw away your trash!
---
6. Be amazed by the bioluminescent bay during a night kayak trip at Laguna Grande
Puerto Rico has a lot of amazing natural wonders. Aa rainforest covers much of the island near San Juan, but one of the most unique natural wonders is the bioluminescent bay at Laguna Grande in Fajardo. There are actually three different bioluminescent bays to discover this cool natural phenomenon but the Bio Bay in Fajardo is closest to San Juan.
Tours can be booked online (or often—through your hotel), and to be honest, it's an amazing experience. The kayak experience starts on the shore and you start by going through a mangrove forest down a river to a wide-open lake.
And while a nighttime kayaking tour is special enough as it is, the Bio Bay is incredible for the blue phosphorescent bacteria that glow up as the water moves. I don't have any pictures from the experience because I was stuck in amazement at how beautiful and peaceful it was (and guides ask you to leave cameras & phones on shore).
It's truly beautiful and magical and hard to explain. But as you move through the water, your paddles making small movements and currents—the beauty of our world is immediately apparent.
---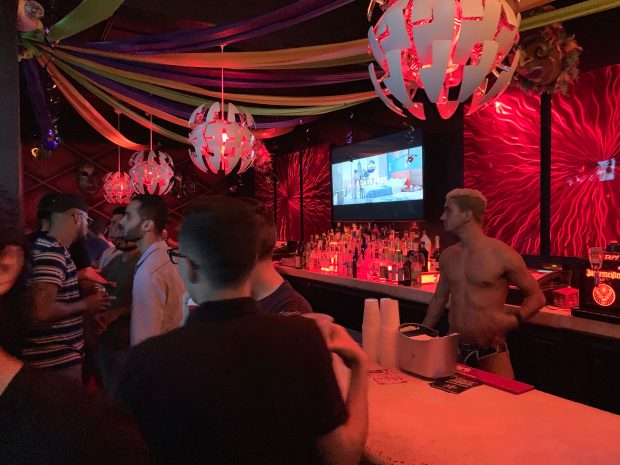 7. Check out San Juan's fun gay nightlife
The natural openness and friendliness of Puerto Ricans makes Puerto Rico a great destination for LGBTQ travelers, and San Juan is at the heart of Puerto Rico's gay culture (and nightlife).
With drag shows, a gay beach (Condadao), bars, parties, club nights, and gay-friendly hotels, San Juan is the perfect place for a gaycation. San Juan's gay nightlife is a lot of fun, and most of it happens Friday and Saturday nights along Calle Condado in the gay neighborhood.
Across form Circo, you'll find VIP—a smaller gay club, and just around the corner is the SX Club—a gay strip and go-go dancer club.
---
8. Go salsa dancing in La Placita
Santurce is one of the most lively and energetic neighborhoods in San Juan. On weekends, it's pretty much *the* nightlife spot when the area's many bars and clubs take over the streets around La Placita square.
It's a pedestrian-only zone at night with street food, salsa dancing, and cheap drinks. The salsa dancing takes place at Taberna Los Vazquez where the crowds spill out on the street dancing to live music performers. Cheap drinks and friendly encounters make it a great place to make friends and meet new people.
---
9. Go on a self-made pub crawl in Old San Juan
While you might think to visit Old San Juan during the daytime to take in the touristic sights, it's also a hotspot at night. With happy hour specials and even a few rooftop bars, there are a lot of nightlife options in Old San Juan.
The Mezzanine (156 Calle Sol, 2nd Floor) is set inside a historic building full of past grandeur. High ceilings and mismatched, cozy lounge chairs make up the decor—and while it's beautiful inside, the real attractions are the cocktails.
One of Old San Juan's most iconic rooftop bars is at Punto de Vista (307 Calle Fortaleza) on top of a hotel. With great views over the old city, and an even better happy hour, it's a great place to start the night.
A lot of Old San Juan's other pubs and bars are street-level on Calle Sol and Calle San Sebastian. La Taberna Lúpolo (151 Calle San Sebastián) serves craft local (and international) beers, and it's always fun inside. Crowds spill out onto the street, even.
---
10. Shop local products at the Old San Juan boutiques
Old San Juan is the center of Puerto Rico's history. The most popular tourist attraction is the Castillo de San Cristóbal which guidebooks tell you to avoid visiting in the height of the daytime sun.
So during those peak sunlight times, instead make your way through through Old San Juan's winding streets to the many boutiques and small crafts shops.
There are lots of great places to find local arts and crafts. The Poet's Passage (203 Calle Cruz) is especially popular as it's a hub for the city's poets and writers.
Alongside their many typographical and word-focused art, it's a comfortable café great for a leisurely afternoon break. And at night, the café turns into a venue for performances and events.
For artisanal local products, make sure to visit Mundo Taino (#256 Calle San Justo). While some products might be a little expensive inside this artisanal shop, their well-curated products are great to browse and you might just find a unique souvenir among the selection.
Make sure to wander Old San Juan at your leisure to discover lots of other cute cafés and shops. The winding roads are great for a bit of urban exploration—especially because of the colorful buildings and beautiful doorways.
---
San Juan is a dynamic and unique city—unlike other American destinations, it is distinctly Puerto Rican. That culture and beauty seeps through the many activities and things to do in the capital. While many tourists might just spend a weekend in San Juan, it's almost better to soak up the culture over an extended period of time.