Check out my California road trip itinerary for my #GayRoadTrip through Southern California, from the gay nightlife of West Hollywood, down the Pacific Coast Highway, ending at San Diego Pride
SPONSORED — On my recent #GayRoadTrip with GayTravel.com, I took a week to travel from Los Angeles to San Diego, ending at San Diego Pride.
With a rainbow-painted car, I made my way from the West Hollywood drag scene, through the small beach towns along the coast (including super LGBTQ-friendly Laguna), ending in La Jolla and San Diego. Lots of sunshine, rainbows, and beaches! Check out my road trip itinerary below for some of my favorite stops in Southern California.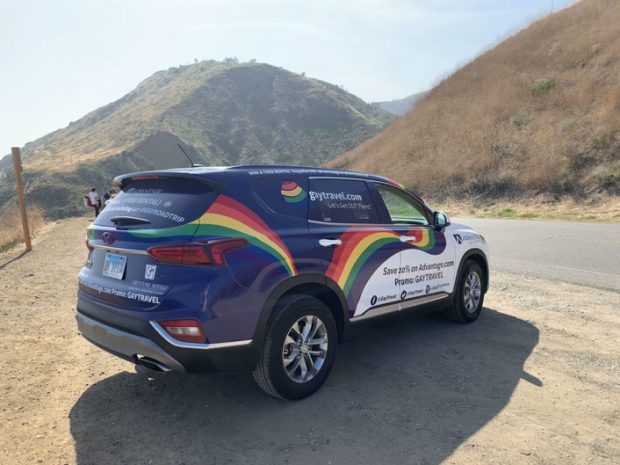 ---
• • •
Of all the classic American road trips, the Pacific Coast Highway in Southern California is one of the most iconic. There's a reason California's official state nickname is the "Golden State" and it's not just because of the gold rush; golden sunsets on the west coast are some of the most beautiful in America. And the best way to experience them is during a Southern California road trip.
The best road trips include a rough itinerary of places and sights to see, maybe a beginning and end point, but also plenty of scheduled time to get off the beaten path. In Southern California, where the road trip routes literally run through hundreds of beaches and piers, there's no shortage of destinations to stop in or travel through.
—AD—
Planning a road trip through Southern California. Advantage Rental Car, in partnership with GayTravel.com, offers a 20% discount for LGBTQ travelers. Use discount code GAYTRAVEL when booking online.
Learn more about the special offer here.
Southern California – Gay Road Trip Itinerary
10 Places to Visit on a SoCal Road Trip
---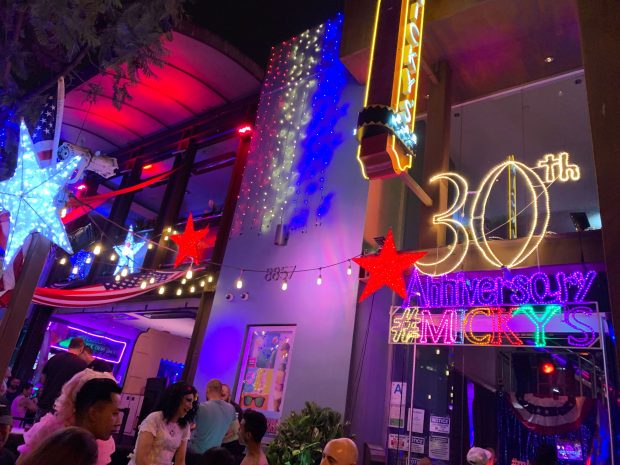 West Hollywood
Most famous for its nightlife (and many gay bars and clubs), West Hollywood is one of the most fun and energetic areas of Los Angeles County. Santa Monica Boulevard runs the length of the city with countless high-end restaurants, shops, and bars.
---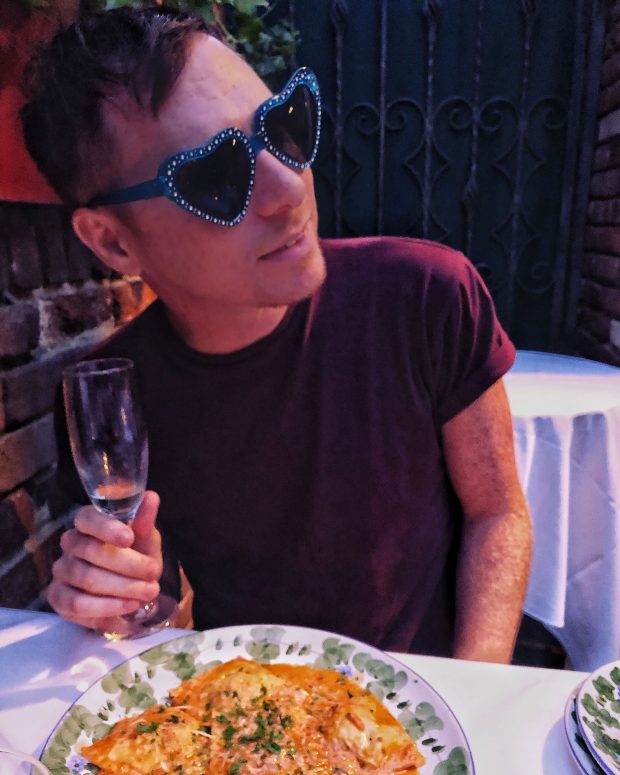 Beverly Hills
Part of the greater Los Angeles area, the city of Beverly Hills (besides being famous for its 90210 zip code) is also the residential home to many celebrities. It's a great place to visit during the day for shopping, namely in the famous Beverly Center, and of course along the upscale shopping street of Rodeo Drive.
---
Santa Monica
On the western edge of downtown Los Angeles, and along the coast, Santa Monica is a bustling city with its fair share of towers, but also a more chill atmosphere along the beach boardwalk. A beautiful sandy beach makes it one of the busier coastal areas for Los Angeles residents.
The iconic Santa Monica Pier has carnival rides, an aquarium, trendy restaurants, and an outdoor gym. It's a great spot for an afternoon break from the bustle of downtown Los Angeles.
Where to stay in Los Angeles
If you're planning to visit the main tourist things to do in Los Angeles—everything from the Hollywood Walk of Fame, Universal Studios, Griffith Observatory, shopping on Rodeo Drive, the Santa Monica Pier, to the Los Angeles County Museum of Art (and much more)—it's good to be centrally located. Staying in or around Beverly Hills and West Hollywood provides the best access to both daytime (shopping & sightseeing) and nighttime (restaurants & clubbing) in Los Angeles.
The Elan Hotel (Beverly Hills) is just a 20-minute walk (or 2-minute Uber) from Santa Monica Boulevard and the famous West Hollywood gay bars, and equally close to the picturesque Beverly Hills. A boutique, independent property part of the Greystone Hotel group, rooms are comfortably sized and with plenty of amenities.
A continental breakfast is served daily, and on weekdays from 5-7pm, the hotel offers free wine & cheese happy hour. View more photos & find deals for The Elan Hotel (Los Angeles) here. For road trippers, there is VIP parking available as well as some street parking.
---
Venice
Directly south of Santa Monica, Venice Beach is best known for its hippie way of life. A large beach along the Venice Boardwalk, and the Venice Pier are popular hangouts with many colorful street performers, street art, and shops & vendors (it's especially beautiful in the early evening).
Not to be outdone by the Venice in Italy, the Venice in California also has a handful of man-made canals just a few blocks from the beach. It's a truly picturesque spot and great for a summertime stroll to peek at the multi-million-dollar, modernist homes along the canals.
---
Huntington Beach
While much of the Pacific Coast is great for surfing (and honestly: a little too chilly for swimming), Huntington Beach is especially famous for its surf. Just an hour or so south from Los Angeles, Huntington Beach has a large, expansive coastal beach and a fishing pier.
The town center is home to a number of beach and surf shops, and for those that don't want to take surfing lessons, there's even an International Surfing Museum where you can learn more about the sport.
---
Laguna Beach
Another coastal city south of Los Angeles and along the Pacific Coast Highway, Laguna Beach is most famous for its art community. It also has a long history as a gay travel destination; there are some gay bars and drag shows every Wednesday and Sunday in the city!
Nearby Laguna Beach, the Crystal Cove State Park is a picturesque spot (and personally one of my favorite parts of the Pacific Coast Highway) with an underwater park and incredible views. There's even a quaint cottage restaurant called the Beachcomber Café on Crystal Cove Beach—a classic seaside restaurant serving steak and seafood.
---
Dana Point
Another coastal city, Dana Point has a large harbor and marina and a popular spot to join dolphin or whale-watching cruises. Just a short drive from Laguna, the headlands around Dana Point are all a bit more elevated than other areas and therefore offer more expansive views over the Pacific Coast.
Located on a cliff overlooking the Dana Point Marina, the Cannons Seafood Restaurant and Grill has one of the best views of the region (and great food, too!). Open for nearly 50 years and serving seafood & steak classics, the hideaway restaurant has a large outdoor terrace perfect for events small or big.
---
La Jolla
A suburb of San Diego, La Jolla is a picturesque beach town famously home to a lot of great wildlife. The city sits along seaside cliffs where seals and sea lions lounge alongside swimmers, kayakers, and snorkelers.
Like every classic beach town, it's a great place to unwind and take in the nature, with occasional water activities and sports when you want something a bit more active. The Birch Aquarium, part of the University of California system, has an impressive collection of fish and habitats, including many seahorses.
Don't miss Black's Beach near La Jolla—the region's unofficial "gay beach" where nudism is the norm. At the bottom of a cliff, getting to Black's Beach isn't necessarily easy, but it's also not that difficult. There are no amenities on the beach, though, so make sure you bring enough water and sunscreen!
Where to Stay in La Jolla
The Empress Hotel in La Jolla is just a short walk to the shore, making it a great place to stay for vacationers looking for a beach holiday. With mini-fridges and microwaves in the room, it's a convenient option for those looking to be close to the beach for an extended stay, and a lobby restaurant (Manhattan) serves top-quality steaks, seafood, and Italian specialties. View more photos & find special deals for Empress Hotel (La Jolla) here.
---
Coronado Island
Just across the Big Bay from San Diego is Coronado Island, easily accessible via a long stretch of bridge which shoots through the sky. Another beach town, this one is a bit more chill with wide beaches of soft sand, and beach cafés, bars, and even a beachside taqueria serving great margaritas.
Head to the iconic Hotel del Coronado with its iconic architecture influenced by Oriental styles and a red-orange roof. The hotel is one of the largest wooden structures on the western coast and therefore serves as a historical landmark. It's also in front of the largest expanses of sandy beach with plenty of beachside amenities.
---
San Diego
Of all the cities of Southern California, San Diego probably best epitomizes the local attitude. It's a chill, laid-back, sunny city that's both cool and casual at once. At the center of the city, lies the large Balboa Park—a sprawling public green space.
In Balboa Park, you'll find a lot of San Diego's best things to do, namely the San Diego Zoo, but it's also where most events and festivals take place, including San Diego Pride each July.
With over 3,500 animals, the San Diego Zoo was one of the original zoos which made it popular (and safe) to house animals in open-air exhibit, providing them more freedom.
The neighborhood of Hillcrest in downtown San Diego is home to most of the LGBTQ nightlife, with a handful of bars, clubs, and shops.
But the real highlight is a 65-foot flagpole and monument that flies a large, 12×18 foot rainbow pride flag year-round. The rainbow flag serves as an important and very visual monument to the local LGBTQ community, a marker of San Diego's LGBTQ-inclusivity.
Where to Stay in San Diego
Part of the Greystone Hotel group, Bristol Hotel is located in the Gaslamp district of downtown San Diego, making it a great base for city explorers. Rooms are spacious and beautifully decorated in a modern contemporary design (as is the spacious ground floor lobby).
From the Bristol Hotel, it's relatively easy to access the rest of the city with a car or Ubers, or even the local public transport. View more photos & find deals for Bristol Hotel (San Diego) here.
• • •
Road tripping in California is a pretty classic American trip. It takes in all the favorite sites and scenery, from the picturesque roads along the Pacific Coast Highway to the amazing national parks & wildlife along the way, from the cute & quaint beach towns of Orange Country to the mega-metropolis (and traffic of Los Angeles).
California, the friendly and open-minded state that it is, is also exceptionally welcoming for LGBTQ travelers. From the gay-friendly hotels throughout the state, to the open road, Southern California makes for a fantastic gay road trip destination.
More California Travel Tips & Guides:
California Travel Guide
Los Angeles Travel Guide
San Diego Travel Guide
Orange County Travel Guide
Best Gay Bars in Los Angeles
How to Spoil Yourself in Los Angeles