When I visited Stockholm for the first time last summer, I wasn't entirely certain what to expect. I'd heard rumors about the city being one of the trendiest in the world. That didn't seem so far-fetched for me, considering some of my favorite international designs come from Sweden.
Companies like H&M and IKEA have become so ingrained into our collective global history, sometimes it's easy to forgot that they're Swedish. But, in Stockholm—the design and the fashion is so much more than the fast fashion variety.
Sweden has long been at the forefront of fashion, as evidenced by the many shops founded by Swedish designers. When I started looking up cool things to do in Stockholm before my first trip, I really became quickly overwhelmed. The city is relatively easy to navigate, but it was hard to get around the idea that the city is built across 14 different islands.
How was I supposed to find all the cool stuff when it seemed everything was going to be hard to reach?! Luckily—it wasn't. The city's subway system was easy to use and got me to just about everywhere I needed to go. And, thankfully, staying at a hotel on Södermalm island, meant I was close to the coolest things anyways.
Below are the five places I visited in Stockholm that I felt really encapsulated the city's style, its atmosphere. Sometimes when you visit a place, it can be a challenge to find those places which really capture the essence of a city.
A city like Stockholm, with its vast, blue waters, its green parks, its hipsters and its trendy restaurants—thankfully makes it easy to find cool things to do. The city is teeming with places that ooze cool. But the five places I recommend below are my favorites—they have their own interesting stories.
Where to Find That Stockholm Style
The Best Place for a Summer Cocktail
Mälarpaviljongen
malarpaviljongen.se
When planning my trip to Stockholm, I got a lot of recommendations on things to do and see from friends and followers. But the one place that was repeatedly recommended was this one. (Just don't ask me how to say it, please!)
Mälarpaviljongen is a bar and restaurant located on banks of Stockholm's lake. It's one of those places that's not explicitly LGBT/gay; it's popular with everyone. During the day, it's a great chillout place and with the bar's regularly hosted events (everything from drag shows to live music), it's just a cool place to set up camp for a few hours.
The international staff comes from all over, making it an easy place to meet others and make conversation. Plus, with every bottle of rosé wine you buy, you're supporting their Rainbow Fund which goes to support LGBTQ causes around the world.
The only bad thing about this place is that it's only open during the summer season (typically from April through September).
The Coolest Cajun Bar/Club/Restaurant
This was the first bar I went to on my first night in Stockholm—and everywhere else I went to had to live up to it! The restaurant, with it's Louisiana-style menu, made for a nice dinner with some really great flavors. I happened to visit Marie Laveau while they were trying some new menu items from the kitchen. A lobster roll sandwich I tried stood out, reminding me of those back home from the USA's northeast.
While the food was definitely memorable, it was really the atmosphere of the bar which made the place. Like so many of the other bars and restaurants in Stockholm, the venue doubles (triples?) as a few different types of places at different times of day. There's a basement club open late and on weekends, a café in the front and the main restaurant/bar. You'll find a decent selection of local craft beers available, but the people-watching is as good as the drinks here.
Stockholm's Most Stylish Hotel
Besides Mälarpaviljongen, Berns Hotel was the next most recommended place for "cool Stockholm." I stayed here the final few nights of my trip and while I was sad to be on the main island rather than über-hip Södermalm, it turned out not to matter. Because the Berns Hotel didn't just have a cool design throughout the rooms, but they also had their own clubs and restaurants in the bar. Plus, it's conveniently located to the gay nightlife of Stockholm.
Unlike other design hotels around the world (especially those that are often a bit pricier), the Berns Hotel doesn't feel stuffy. The atmosphere is friendly and cool. And while it's not a "gay hotel," well—it certainly feels like one! I won't even tell you the things I got up to here…
The hotel hosts a number of different events throughout the year, including parts of Stockholm Fashion Week and other special concerts and performances, so if you're traveling alone—it's not a bad place to get situated. Room prices at the Berns start from 200€/night—pretty much my max limit for a trendy hotel. But for another opportunity to stay at the Berns, I'd gladly pay it for a short weekend trip!
Stockholm's Best Curated Collection of Fashion & Other Things
There's been a recent trend in fashion and shopping around the world—"lifestyle shops." I don't know if that's what they're really called, but it seems like an appropriately vague phrase to describe a place like Grandpa. This shop, founded in 2003, now has a few locations across Stockholm.
They sell everything from beard oils to wall posters. With both men's and women's fashion, plus a basement full of home interior products, it's easy to want to buy something at Grandpa. Inside you'll find a carefully curated selection of products, but they also have an online shop with shipping throughout Europe.
They also stock a number of different Swedish brands and labels, as well as others from Scandinavia. Some of my favorites include: Happy Socks, Uniforms for the Dedicated, Sandqvist, Sätila and Knowledge Cotton Apparel.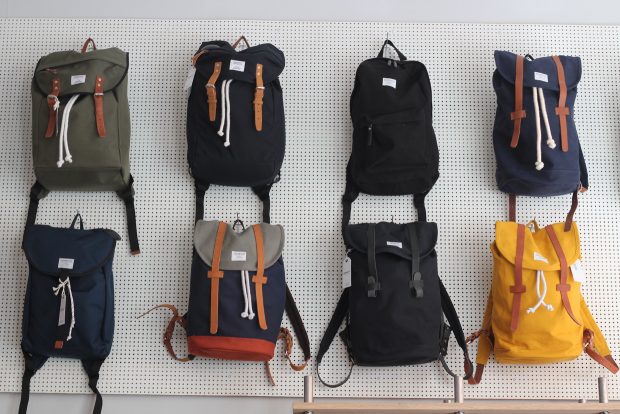 Where to Dance All Night—under a bridge!
Clearly the coolest thing (or a place) in Stockholm, there's a large space underneath a bridge in Södermalm where a number of different venues have been set up. Trädgården is the nightclub, but you'll also find an art space, a radio station and a vegetarian restaurant. Nothing in Stockholm is ever one thing—including their nightclubs!
But the Trädgården area isn't just for the nighttime. On weekends you'll find special events and markets in the space. In fact, the whole space under the bridge reminded me so much of Berlin's clubs—where there are no closing hours and where just about anything and everything could happen.