Travel tips and photos from a road trip through Texas, using a travel app to discover the best things to see and do in Dallas, Houston and Austin
When you think of United States, you might have a lot of stereotypes and cultural references in mind: from fast food restaurants and gun shops to the Statue of Liberty and the Golden Gate, America seems to be easy to grasp.
However, the real America (that elusive concept) is completely diverse, and includes well all sorts of different people and realities. This time, I am going to tell you about something Americans really love, even when they're not necessarily aware of that: driving a car.
You need a car to go everywhere: the gym, the CVS, that weird cousin who lives in Tampa. And this is when things get interesting. If Americans love anything more than driving, it's road trips.
It could be a short road trip to a Czech bakery on the outskirts of Fort Worth, it might be the transcontinental experience popularized by countless books and films, or just a weekend excursion from Chicago.
Driving in Texas on a Road Trip – City Travel Tips
During this short visit – only three months – in the United States, it's not the food or the culture that I'm most excited about. It's that feeling of getting in a car and just driving away. When you're on a road trip, you get this sense that you're discovering a new America.
Cities that are relatively close to one another have different personalities—the road trip accentuates this while you transition from one to the other in a single vehicle. On a road trip, you discover how all these stereotypes about the American way of life sometimes just don't make a lot of sense. It's a great way to discover somewhere new—but also somewhere familiar.
Related: More Road Trip Travel Stories
So, while #HomeForTheHolidays in the Dallas-Fort Worth area, I decided to take a last-minute road trip through Texas. I selected a pretty straightforward route—guiding myself with little more than the green highway signs directing me from Dallas to Houston and Austin.
All cities that I've been to at least once in my childhood, but not anytime recently. I started out on this road trip from my home in the Dallas suburbs with a full tank of gas—and with my mom's car…because, why not?!
My car was fully stocked for the drive with cookies, a selfie stick, phone chargers and plenty of mobile data. Without knowing much of what's new and cool in each of these Texas cities, I teamed up with the Trip.com app to help find my way around.
Pro tip: it's always helpful to have a passenger on a road trip stuck with the task of finding where to go and what to do while you, the driver, gets to watch the road and choose the radio stations.
Starting your road trip in in Dallas
There are several reasons to visit Dallas, both historical and cultural. While some people complain that Dallas has no personality (except for a bit of Dallas attitude—#Dallitude) or that it's a fake city, I don't necessarily agree. Downtown Dallas is an important place in USA history.
Elm Street, for example, is the infamous place where our President Kennedy was assassinated. There's a small memorial designed by Philip Johnson around the corner from Dealey Plaza—where conspiracy theories were born.
What to do: From JFK to great sculptures
Standing amongst the glass and steel skyscrapers, the stark open space of Dealey Plaza, the Grassy Knoll and Founder's Plaza is almost inspiring. It's strangely comforting—a still oasis of history.
Dallas is one of those great road trip destinations for a few reasons. It's relatively easy to get around and there's plenty of parking (lots from just $8/day).
Within walking distance from Downtown Dallas, there are three great museums: the amazing collection (and free) in the Dallas Museum of Art, the Crow Collection of Asian Art and the Nasher Sculpture Center. The city also has that important aspect of any road trip—a city skyline visible afar from the flat highways.
Read more: A Gay Weekend in Dallas – Travel Tips
From the iconic Reunion Tower to the new Margaret Hunt Hill Bridge (designed by Santiago Calatrava), driving out of Dallas toward Houston feels like the beginning of a true Texas journey.
---
Driving from Dallas to Houston
On the road from Dallas to Houston, you might spot on the road (maybe a bit too late like me) a giant sculpture of Sam Houston just outside of Huntsville. Of course you'll want to stop the car and take a couple of photographs—but sometimes it's just easier to keep driving.
How long is the drive from Dallas to Houston? Not too long — and there's not much to see along the route so you'll want to get there quickly.
Take it as an experience and just enjoy the road; it's what the American road trip is all about. Among the billboards asking me to sell my car or the advertising for adult videos, the highway is fast and there's no time to look back (and don't you dare try to use your phone and drive). Don't Mess With Texas®, hey.
Upon arriving in Houston from Dallas, there's an immediate feeling that this is also a BIG city. Twelve or fourteen lane highways cut through the city, sideswiping the skyscrapers. Over the highway into the city, there's an iconic piece of graffiti over an overpass telling all the drivers to: "Be Someone."
This is Houston. A wealthy city, but relatively understated; it's America's fourth largest in population but it's hard to feel crowded here. With trendy cocktail bars, amazing art museums and a foodie culture, there's plenty of space in Houston to "be someone."
What to see in Houston: Public parks and siphoned coffee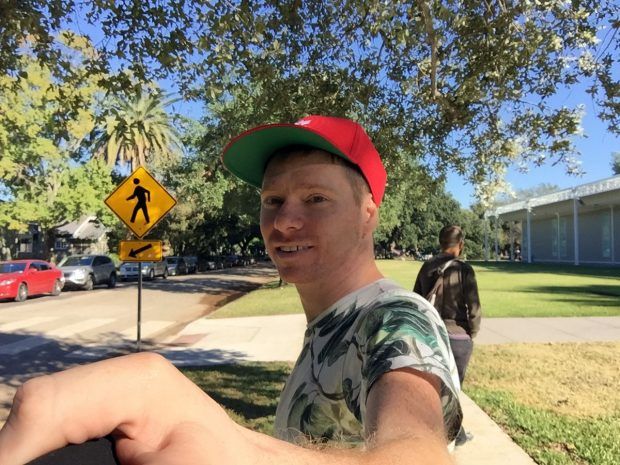 In Houston, I relied pretty heavily on the Trip app to discover what to do—mostly because I've never really been a tourist in Houston before. The app didn't disappoint!
Within an hour of arriving to Houston, I opened up the app to see what was nearby for coffee and the very first spot turned out to be what's arguably Houston's most hipster coffee shop: Siphon.
At Siphon, the coffee is served with a weird, yet innovating technique—it's heated from the bottom and rises up, as if in a siphon. I tried to understand from talking with the cute barista, but it all just looked like a science experiment to me. Regardless: it was excellent coffee!
At night, I used the Trip app to help discover Houston's nightlife. We started at the Anvil Bar & Refuge—reviews on the app said it was the "best cocktails in Montrose" which I'd already discovered as Houston's hipster, gay-friendly neighborhood.
And it's true: the best cocktail in Montrose! Later, I used the app to find some of Houston's gay bars—starting at the ginormous JR's Bar & Grill and then later to George: Your Country Sports Bar (which FYI is exactly what it sounds like).
Gay bars in Houston seem to be diverse—from the stereotypical pop clubs for twinks to the dive lounges for bears. Houston is surprising!
Challenging my preconceived ideas of the city as a polluted haven for traffic, Houston is also surprisingly green. The Trip app pointed me in the direction of a handful of different green Houston attractions—including the picturesque Hermann Park, Buffalo Bayou Park and the Menil Collection.
The free Menil Collection includes a permanent collection featuring great works from Picasso, Kandinsky and Warhol. The Menil is also the home of the Rothko Chapel—a place for the contemplation of art and oriented toward peace and spirituality. One of my favorites artists, Cy Twombly, even has his own building with both his paintings and sculptures.
Before you leave Houston, don't forget to visit the public parks, including the Hermann Park with its Japanese gardens, its little lakes with ducks and its cute railroad. In the summer, there's an outdoor theater for free public performances, too.
Driving from Houston to Austin
After two days exploring Houston, we filled up on gas and moved on to our last stop: Austin. It's a city I've been to a handful of times before—one that's the unofficial hipster capital of the south, maybe all of America. Their slogan is "Austin is weird" but truthfully, Austin is just pretty damn cool. Great green spaces like the Barton Creek Springs Pool, or the Butler park make the city very different than other Texan metropolises.
In Austin, the hipster feeling is in the air. Like any true city for artists and bohemians, there's going to be graffiti—from the famous "I love you so much" (star of my Twitter background) to environmental messages about Texan toads.
What to see in Austin: Hipster streets and the Texas Capitol
A walk down South Congress street and you'll spot dozens of people shopping for vintage artifacts and geeky antiques, drinking smoothies, having Tex-Mex tacos and eating cupcakes. On South Congress, vintage stores coexist with candy shops and karaoke bars.
We ate dinner on South Congress at Hopdoddy—the third most recommended Austin restaurant on the Trip app. It's hipster heaven.
Elsewhere in Austin, the skyline is dominated by the Capitol building. It's free to visit (and there's free parking at the Capitol Visitor Center, too). Inside is the famous rotunda featuring the six flags of Texas and surrounded by portraits of our recent governors.
Down the street from The Capitol is the small Mexic-Arte museum—a small museum and shop with fusion art from American and Mexican artists.
Sunday morning brunch in Austin, on the way out of town, we used the Trip app one last time. For the drive back to Dallas we decided to carbo-load with a big brunch, Texas-style. In Austin, that means Kerbey Lane Cafe—big portions and hearty Texas favorites like biscuits and gravy!
---
After a powerful breakfast, there was nothing else to do but get in the car and drive. Driving in Texas, you really get the sense of the natural grandeur of space. This is a big state, part of a bigger union.
On the road for hours, even simple road trip drives like the one from driving Austin to Dallas, feel somehow majestic. The long flat roads, the sun-showers and the repetitive billboards flashing in front of you—the road is a small microcosm of America, but it's where the adventures always begin.