SPONSORED — A mecca of artists, bohemians and Europe's creative class, Berlin is an old, historic city made new again thanks to a torn-down wall, a reunified country, and an influx of young, trendsetting individuals from around the world. Whether for world-class nightlife, new tech start-ups, unique fashion, cutting-edge art, or international food, visitors often fall in love with Berlin's special vibe, staying longer than expected and returning frequently.
This is a city that's not meant to just be seen; it's meant to be experienced. There's a reason the city's slogan is "be Berlin." It's easy to find cool and unusual things to see and do in Berlin, but to truly experience what it's like to be a Berliner, to be a part of this city—that requires a few extra steps. I've teamed up with GetYourGuide (a Berlin-based travel company) to show off my favorite Berlin experiences—those things that make this city so special and unique.
Use the Berlin game-board below to explore some of our favorite things to do in Berlin.
Berlin for Beginners
The Ultimate Berlin Bucket List
Click on the image above or use the list here to get extra tips and advice on how to become a real Berliner! View a larger, downloadable version of the Berlin for Beginners board-game here.
Berlin for Beginners: top things to do
• • • • • • • • •

1. Try a Club Mate and feel the rush ↑
Start the day off like an echt Berliner (that means real Berliner – you're getting thrown in the deep end here) and pick up a Club Mate—the caffeinated drink of choice of the overworked and hungover.
2. Hang out in a Biergarten ↑
If you've arrived in Berlin when it's not one of the six months where it's winter, hang out in a Biergarten! Enjoy an ice-cold locally brewed beer, chat with friends, check out the hotties. What more could you want? Birgit und Bier (Schleusenufer 3, Kreuzberg) plays great music and attracts a fun crowd, or chill under the chestnut trees at Berlin's oldest beer garden, Prater (Kastanienallee 7-9, Prenzlauerberg).
3. Sing karaoke at Mauerpark ↑
Can you sing? No? Great, head to Mauerpark's "bear pit"—named for the fact that it looks like a Roman amphitheater and maybe also for the carnage it invites—on a Sunday and belt out your favorite tune in front of an encouraging crowd of hundreds. Foreigner's 'I Want To Know What Love Is' might be a fitting choice for you newbies. Definitely a crowd-pleaser.
[box]
Related: Alternative Berlin Experience
Experience Berlin's diverse street art, city markets, café districts, artist quarters, multi-cultural neighborhoods, and much more on the Alternative Berlin tour.
[/box]
4. Visit the Kulturbrauerei ↑
Next up on the Berlin for beginners' bucket list should be a trip to the Kulturbrauerei (literally "Culture Brewery"), a former brewery turned into a site of cultural extravaganzas. The arts and entertainment complex houses a cinema, theater, restaurants and several clubs, and regularly hosts rock concerts, street food parties and craft beer events. Plus it's home to one of Berlin's best Christmas markets each winter, and the neighborhood around Kollwitzplatz is generally regarded as one of Berlin's most beautiful.
5. Swim in a lake ↑
Berlin has a network of over 80 lakes. There's no better way to cool off during the dog days of summer than by taking a dip in the cool, silky waters on the edge of the city. Schlachtensee in the west, Müggelsee (the largest of Berlin's lakes) in the east and Krumme Lanke on the edge of the Grunewald forest are easy to reach from the center of Berlin. And if you don't' want to swim, you can always opt to take a boat cruise—they're surprisingly affordable!
6. Drink cheap at a späti ↑
Berliners are poor but sexy. Fact. Why spend €3 on a beer in a bar when you can sit outside one of the ubiquitous late-night corner shops (called a spätkauf or späti for short) and sip on a luke-warm, 80-cent Sterni? Some spätis are nicer than others so choose wisely and enjoy!
[box]
Related: Hipster Guide to Berlin
[/box]
7. Ride the M10 party tram ↑
The M10 tram runs from Warschauer Strasse station to Hauptbahnhof station passing through Friedrichshain and Prenzlauerberg's prime party streets. If there's a tram that someone will spill beer (or worse) on you, it's the M10. Bring a beer from the späti and enjoy the ride.
8. Have a beer by the Spree ↑
Still got that späti beer? Wander down to the Spree, kick back and watch the world go by. You'll find scenic spots to sit along the riverbank, from Mitte's Museum Island down to Oberbaumbrücke and beyond. Personal favorite spots include the sliver of space between the East Side Gallery and the River Spree, as well as the small picnic spot by Lutherbrücke across from Schloss Bellevue.
9. Walk across the Oberbaumbrücke ↑
Oberbaumbrücke is a double-decker bridge which connects Kreuzberg and Friedrichshain. The two districts were previously divided by the Berlin Wall so the famous landmark has become a symbol of unity. Head there at sunset to take in the impressive views of the Berlin skyline over the River Spree. Both the TV Tower and Molecule Man sculpture can be viewed from the bridge. And it's the spot for many the perfect Instagram photo.
[box]
Related: "Poor, but sexy" Bike Tour through Berlin
[/box]
10. Visit the Molecule Man ↑
The Molecule Man is a gigantic aluminum sculpture of three bodies embracing in the middle of the Spree near the Elsenbrücke. Designed by American artist Jonathan Borofsky, it symbolizes of the reunification of the city after the fall of the Berlin Wall and it marks the spot where the districts of Friedrichshain-Kreuzberg and Treptow-Köpenick meet.
11. Base-jump at Alexanderplatz ↑
Jump 125 meters from the roof of the Park Inn Hotel in the center of Alexanderplatz and reach almost free fall speeds before you're yanked skyward again by an elasticated cord. Base flying combines base jumping with the bungee-jumping and Berlin is the only place in Europe that you can do it, so if you're an adrenaline junky then Berlin is the place to be.
12. Take the U2 ↑
It's the yellow snake that winds its way through Berlin. I'm not sure if it's officially the longest metro line in Berlin or not, but even if it isn't, it certainly feels like it. The U2 line snakes its way from the faraway west, through Kreuzberg, across the one-time Berlin Wall, and up into Prenzlauer Berg all the way up north to Pankow. There's no way to get around in Berlin without taking the U2 as it hits pretty much every notable interchange and tourist hotspot. If the underground makes you feel claustrophobic, though, don't worry: the U2 goes from underground to aboveground to underground repeatedly—making for one of the most scenic ways to take in Berlin for just 2.80€. Bonus: use the Berlin WelcomeCard for unlimited usage of the Berlin U-Bahn and S-Bahn for your stay (with the added bonus of free and reduced entry to over 200 attractions).
13. Skip the line at the TV tower ↑
The TV Tower (Fernsehturm) is without a doubt the most recognizable of Berlin's landmarks, so it's no surprise that it's on every tourist's checklist. If you want to look down at the Reichstag, Brandenburg Gate and the Olympic Stadium from its revolving restaurant more than 650 feet above ground it's best to book a tour to skip the lines — otherwise you end up waiting too long.
14. Take a selfie at Brandenburg Gate ↑
It'll just take a second, and there's not much else to do there anyway except look at it. Then upload it to your Tinder profile so everyone can see that you've been to Berlin.
15. Visit the Jewish Memorial ↑
In the heart of Berlin close to the Brandenburg Gate you'll find Berlin's most imposing structure: the Memorial to the Murdered Jews of Europe. The memorial consists of 2711 concrete slabs of different heights arranged on a 19,000-square-metre site and preserves the memory of the Jews who were mass murdered under the German Nazi regime during the Ηolocaust. The memorial was designed by New York architect Peter Eisenman to be a place of remembrance, contemplation and warning. Beneath the Memorial, at an underground information center you can learn more about the victims with historical documentation in the form of diaries and farewell letters, photographs and film footage. There are also three other Holocaust memorials in the area memorializing the gay and lesbian victims, disabled victims, and the Roma and Sinti populations all persecuted during the Holocaust.
[box]
Related: Explore the rise and fall of Nazi Germany on a Third Reich tour of Berlin
[/box]
16. Get lost on Museum Island ↑
On an island in the middle of the Spree in the Mitte district you'll find five world-renowned museums: Pergamonmuseum (Pergamon Museum); Bode-Museum; Neues Museum (New Museum); Alte Nationalgalerie (Old National Gallery); and Altes Museum (Old Museum). Museum Island (Museumsinsel), which was listed as a UNESCO World Heritage site in 1999, houses important artifacts from Ancient Egypt, Byzantium and Berlin. The legendary bust of the Egyptian queen Nefertiti and the remarkable Ishtar Gate are amongst the island's treasures. And the Lustgarten park in front of the Berliner Dom (Berlin Cathedral) serves as a useful meeting point and a fun area for a casual picnic under some of the city's most iconic landmarks. Use the Berlin WelcomeCard for reduced entry to each of the museums; it's the easiest way to experience Museum Island.
17. Rent a Trabi ↑
The Trabant, or Trabi for short (Berliners love to shorten every word in its diminutive), was the car sought after by East Germans before the fall of the Wall. It had a reputation for being uncomfortable, slow, noisy, and dirty but these days it looks pretty cool and it's a fun way to take in the city's sights. And make your friends back home jealous with fun selfies. It's a fun activity for the day, too, at just 49€ per person.
18. Hike up to Teufelsberg ↑
Teufelsberg (translation: "Devil's Mountain") is a hill in the Grunewald area of former West Berlin made from approximately 75,000,000 cubic meters of rubble from the Second World War. It became a U.S. listening station during the Cold War and now serves as a great vantage point from which to view the city. But its real attraction is the street art; the area is covered in it. (If hiking's not your thing, catch a ride.)
19. Hit up a German Kneipe ↑
Pretend you're an old school Berliner and head to a proper German Eckneipe – basically an "old man, corner pub." A true kneipe can be identified by kitschy decor that wasn't intended to be remotely ironic, as well as a distinct lack of hipsters. Order your beer auf Deutsch to blend in.
20. Take a Sunday stroll through Tiergarten ↑
Tiergarten is one of the largest urban gardens of Germany and is the Berlin equivalent of New York's Central Park. As well as a beer garden and a smattering of monuments and gardens (including a makeshift memorial to Michael Jackson which is maintained by a few dedicated locals), the Memorial to Homosexuals Persecuted Under Nazism is located within its idyllic grounds. It's a great place for a Sunday stroll or even the opportunity to strip down for some nude-sunbathing if you dare.
21. Visit the zoo ↑
Berlin's huge, leafy zoo is now home to Meng Meng and Jiao Qing, two young giant pandas whose hobbies include eating bamboo, napping, climbing and eating more bamboo. Berlin's zoo is the world's most species-rich zoo but since the pair are the only two giant pandas in Germany they've become its star attractions. Book a ticket in advance to skip the long queues at the entrance.
22. Explore Nollendorfplatz' gay history ↑
In 1922 the first-ever gay rights demonstration was held on Nollendorfplatz in Schöneberg (Berlin's largest gay district and the world's first gay village) establishing Berlin as the Gay Capital of Europe for the rest of the 1920s. These days it's as queer as ever with the annual CSD parade and Folsom fetish events taking place amidst the area's countless gay bars and clubs. But like every neighborhood in Berlin, the area's history is often hidden in plain sight. Take a tour to discover some of the unique and secret spots of Nollendorfplatz, such as the location for one of the world's first gay bars.
[box]
Berlin Schöneberg Gay Berlin Tour: Out in Schöneberg
Experience the historical traces of Berlin's oldest gay neighborhood, the rainbow quarter of Schöneberg, between Dennewitzstraße and Nollendorfplatz. Learn about how the district became what it is today and what the future holds on this special gay Berlin tour.
[/box]
23. Wait in line for a döner ↑
Ask yourself what you'd happily wait in line for 45 minutes for. Be honest with yourself. If a kebab is on that list then by all means join the end of the queue at Mustafa's Gemüse Kebab. Their meat and grilled vegetable kebabs are made with love, attention to detail and fresh ingredients so you can't really go wrong. If a kebab wasn't on your list of things you'd happily wait 45 minutes for then skip it. Because there are thousands of other döner stands, literally on just about every corner in Berlin.
24. Spend a day at Tempelhof ↑
If you're looking for an area of vast, open space, head to Tempelhof, an abandoned airfield bordering the Neukölln, Tempelhof and Schöneberg districts. Copy the locals and take a picnic, go for a run, try kite surfing, have a BBQ, walk a dog or just soak up some sun. There's even a mini golf place made of found and recycled objects. And for the history fans, don't miss the airport history tour where you'll learn more about Tempelhof's place in history as a saving grace during the Berlin siege.
25. Visit a German spa ↑
FKK (Freikörperkultur) means naked. Being naked in Germany is not a big deal and there are plenty of spas where bathing suits are verboten (forbidden). Friends, dates and colleagues all go to FKK spas. All buck naked. There's nothing sexual about the naked saunas and spas in Germany so if you're fine with letting it all hang out around people you know, more power to you. If not, maybe ease yourself in with a spa day on your own first. I'd recommend Vabali Spa which has a huge outdoor area with a swimming pool, sundeck, garden with relaxation area, as well as a large indoor pool and several saunas and steam rooms.
26. Drink your way down Weserstraße in Neukölln ↑
Weserstraße is undoubtedly Berlin's best street for a pub crawl. Regardless of the weather, you'll find a bevy of hipsters hanging out here every weekend (and weekday). From swanky cocktail bars like Thelonious Bar (Weserstraße 202) and TiER (Weserstraße 42) to the more casual, vintage-furnitured-out watering holes like Mendy & Edeltraut (Weserstraße 43) and Ä (Weserstraße 40), the street which runs through groovy Neukölln has something for everyone and won't disappoint. Keep an eye out for the frog sculptures and don't miss a stopover in the area's best queer bar, SilverFuture (Weserstraße 206). During the day, Neukölln tours are a great way to explore the area's multicultural history and discover some of the oddly village-like and Medieval parts of the neighborhood.
27. Hang out at a parking garage rooftop ↑
A concrete parking lot on the rooftop of Neukölln Arkaden was an illegal party spot for years. Add a few plants, some benches and an alcohol license and hey presto, Klunkerkranich as it's now called is now one of the most popular rooftop bars in Berlin. The veritable oasis offers sweeping views over the city and regularly hosts events and concerts. Get there early for sunset for one of the prime viewing spots.
28. Return bottles for pfand ↑
This is by far the most Berliner thing on the list. Take that Mate bottle, that späti beer, and the other one, and the rest you've accumulated and get some cash back! You get 10 cents per glass bottle, but you 25 cents for plastic bottles. CHA-CHING!!! That's right, Berliners are cheap. But also eco-conscious which is just another thing that makes them sexy.
29. Take one million photos of Kreuzberg street art ↑
You'll see something beautiful and meaningful emblazoned on a wall or door and snap it; then you'll notice something else. It's a slippery slope and as much as you'll try to put your phone back in your pocket, it won't happen. Just go with it. Or better yet: take a street art tour… Any neighborhood tour through Kreuzberg will point out the highlights, but if you take an entire tour dedicated to street art, you'll also get the chance to try your hand at tagging, too.
30. Take a club bathroom selfie ↑
Show all your Facebook "friends" and Instagram followers how cool you are with an effortless and spontaneous club bathroom selfie — which you selected from (you're guessing) around 60-plus photos that you just took in front of the mirror. You can't actually find your friends now. Oh well, go get another drink and think about all the "likes" that are bound to come flooding in.
[box]
Explore Berlin's legendary nightlife on a tour through Berlin's club scene—hitting up spots like Watergate, Berghain and more…
More information: Berlin Nightlife Tour
[/box]
31. End your night with a 7am Döner kebab ↑
It really is an overlooked breakfast option and, interestingly, the only thing you'll feel like after a night throwing shapes and mixing beers, vodka mates, mexicaner shots and who knows what else. It'll hit the spot and when you wake up at around 5pm you'll be so proud that you got yourself that kebab. Good job.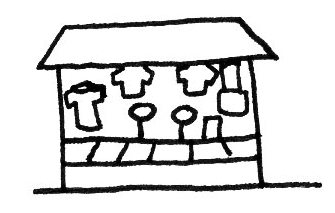 32. Shop vintage at a flohmarkt ↑
Visit Mauerpark, Boxhagener Platz, Marheinekeplatz and Fehrbelliner Platz markets on a Sunday to get your fill of vintage clothes, jewelry, furniture, books, you name it. Get there early though, you don't want someone else to snatch up your bargain find because you slept in.
33. Dip your feet in the sand at a beach bar ↑
Kick off your shoes and revel in the fact that you're standing on golden sand by the Spree in the heart of the city! At Berlin's coolest urban beach, YAAM (Young and African Arts Market), you'll find Caribbean and African food trucks, live music, banging DJs, volleyball and basketball courts and street art murals. It's an easy-to-find, casual space, so there's little trouble in worrying about a queue or an intimidating door man, but still: if you're looking for some background on YAAM's history and it's place on the Berlin club scene, it's best to visit on a nightlife tour.
34. Eat internationally at a street food market ↑
Spoil your inner gourmet or fat kid at Street Food Thursday from 5-10pm at Markthalle IX. Stalls offer a selection of international culinary delicacies including British meat pies, jerk chicken, tacos, pulled pork sandwiches, oysters, cheeses… The list goes on. Or, on weekends, get your fill of authentic pad thai noodles, som tam (papaya salad), pia pao (fish barbecued in salt), gai/moo bing (grilled chicken/pork skewers) and fresh fruit smoothies (with optional vodka or rum) at the Thai food market in Preußenpark at Fehrbelliner Platz U-Bahn station every Saturday and Sunday.
• • • • • • • • •
For more Berlin travel tips, follow Adam on Instagram @travelsofadam
*Illustrations by Clairikine Comics