With a long history of LGBTQ equality, Amsterdam is one of the best gay cities with something for everyone. Use the gay Amsterdam travel guide here (including a recommended list of the best gay things to do in Amsterdam) for a fun & safe weekend in one of the most accepting cities.
Slim, colorful houses, with dozens of peoples on bikes or sitting in a café, contemplating the soft movement of the water in the canals. There are many scenes like this in Amsterdam, and the city is without a doubt one of the best of Europe's many LGBTQ-friendly destinations. Immortalized in many paintings by the Dutch masters, A'dam – how locals call it – Amsterdam is both classic and modern, a city of culture and some might say of decadence, and the home of some of the friendliest people in the world.
THE WEEKEND GUIDE TO Amsterdam
Things to Do
Amsterdam is particularly famous for its Red Light District with promises of sexual pleasure or for its coffee shops with magic brownies and hallucinogen mushrooms. But beyond this hedonistic atmosphere, Amsterdam is surprisingly diverse and a place where there is always something to do.
Amsterdam's Neighborhoods
Indeed, much of the city's life occurs outdoors. Walk around the Jordaan neighborhood, for example, to discover trendy shops, street art and great coffees (especially for foodies, try the apple tart). Another option is to wander around Westergasfabriek, a former industrial complex now dedicated to art galleries, shops and cafes. The De Pijp neigborhood, and the traditional Albert Cuyp market, invite the visitor to try new exotic foods and to wander around the many old-school pubs and hip restaurants.
And in the north of Amsterdam, the Noord neighborhood is especially hip and cool—the heart of hipster Amsterdam. In the East, the Oost Amsterdam neighborhood is a new thriving district of the city—a great place to discover quality restaurants and many budget hotels, too.
More things to do in Amsterdam….
Join the perpetual flow of bikes by renting one and driving it around the many canals and parks, and both the Vondelpark and the Frankendael Park offer great scenic views, whether for contemplation or to share them in your Instagram.
Of the many small and big museums and galleries, some are definitely a must: Of course, the Van Gogh Museum and the Rembrandt House are in the top list of every Amsterdam travel guide, and the Rijksmuseum is in my opinion the perfect introduction to the Dutch art tradition. For those interested to learn about the saddest and cruelest moments of European history, the Anne Frank museum is a place for reflection about peace, hate, and war politics.
Related: 5 Ways to Visit Amsterdam
Also inspired by the WWII conflict, the Homomonument remembers the LGBTQ people who have lost their lives in campaigns of hate and bigotry. Indeed, many locals and tourists bring flowers to show solidarity with LGBTQ issues. Every August, during Amsterdam Gay Pride, the Homomonument also becomes a place of party, together with the many canals that are used for the parade, with sexy boys, pop music, feathers and decorated boats.
Where to Eat, Drink and Party
Amsterdam's gay nightlife is pretty well focused on a single street in the city center, Reguliersdwarsstraat, where some of the city's more popular bars are located. Sex shops and some other gay bars are located in and around the Red Light District, mostly on Warmoesstraat—just follow the rainbow flags. ?️‍?
Spijker Bar, in Kerkstraat, is considered the oldest and friendliest gay bar in A'dam, because it combines good music with a pool table, pinball, and a fireplace. For cocktails, hit one of the favorites for local and visitors, the disco-bar PRIK in Spuistraat, a venue that frequently host top DJs and with many themed parties.
Also great with DJs and with regular drag shows, The Queen's Head located in Zeedijk is one of the most welcoming gay bars, and it offers a striking view over the famous Amsterdam canals.
For those who want to dance and enjoy the music scene, both the Club NYX and the ChUrch host themed parties, going from electronic nights to fetish themes. (Visit ChUrch on Thursday nights for their most popular and tourist-friendly gay party.)
The Jordaan neighborhood is famous for its food and you can find practically every culture there: Indian, Italian, Spanish and also traditional Dutch cuisine are among the many options, both fast food, veggies and gourmet.
Walking distance from the Red Light District, the Chinatown in Amsterdam is another neighborhood worth to visit, with its many Chinese, Thai and Vietnamese restaurants, being the perfect place to find steamed veggies, dumplings and ducks. Chinatown is also famous for the tattoo parlors, acupuncture and its Buddhist temple.
Fast food is also really popular in Amsterdam, and you can enjoy grease ribs and good burgers and fries almost anywhere in the city center, and both local and visitors frequently visit sport bars for cheap beer and American football.
Coco's Outback (an Australian sports bar in Thorbeckeplein) and the Saloon Smoking Bull are there to indulge your fast food sins.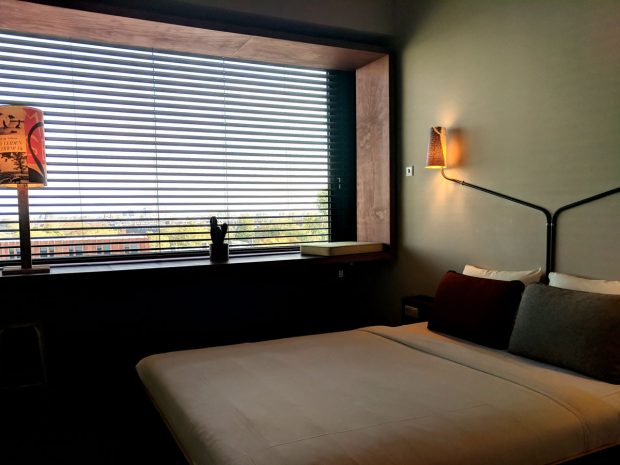 Amsterdam Hotels
One of Amsterdam's coolest hotels isn't in the exact city center—but that's a good thing. In Amsterdam's Oost neighborhood, the Volkshotel is a trendy, affordable option that's surprisingly convenient. And even more convenient because there are so many things to do in the hotel itself.
From a rooftop bar (with an awesome city skyline view), to a hip club in the basement, and a popular café with local freelancers in the lobby—there's little reason to leave the Volkshotel. Plus: the rooms are pretty cool, too!
Another great hotel option in Amsterdam—especially for those looking to be close to the city center—is the Room Mate Aitana. The hotel is located a short walk (under 8 minutes) from Centraal Station, and it's an especially gay-friendly hotel option.
The Room Mate hotel collection is famous for their LGBTQ-inclusivity and close partnership with many gay pride events and LGBTQ rights initiatives. Rooms at the Room Mate Aitana Hotel are all uniquely designed, making it an attractive choice for a beautiful weekend in Amsterdam.
---
Amsterdam is one of Europe's most gay-friendly destinations. And with so many great LGBTQ things to see and do—from historical monuments to legendary nightlife—it's one of the best gay cities for a weekend trip. Read more Amsterdam travel tips here on my gay travel blogs.
Top 10 gay things to do in Amsterdam