A curated guide to some of the best things to do in NYC during Pride Month. World Pride 2019 will bring millions of tourists and thousands of suggested things to do. Here are my favorite gay & LGBTQ things to see & do in NYC this month. Plus some recommended LGBTQ-friendly hotels!
This June marks 50 years since the Stonewall Uprising in Greenwich Village. To celebrate this historic LGBTQ+ anniversary, World Pride is coming to New York City for the very first time! If you haven't seen the ads plastered over the internet, social media, the rainbow flags, and all the corporate pride signs, New York Pride this year is going to be massive. Millions are expected to visit NYC at the end of June.
New York Pride is already one of the largest pride celebrations around the world, and with a whole month of events happening in and around New York City (and Brooklyn, too!), this year's celebration is sure to be the biggest ever.
Because of the historic anniversary, there are a number of great activities and events happening around NYC to celebrate World Pride throughout the month of June — when nearly 4 million LGBTQ +travelers are expected to visit. (I'm exhausted already!)
Things to do during NYC World Pride
1. See the Love & Resistance exhibit at the New York Public Library
Celebrating 50 years since Stonewall, the New York Public Library's central branch in Bryant Park is hosting an exhibition titled Love & Resistance: Stonewall 50 through July 14.
The collection includes photographs from pioneering journalists Tobin Lahusen and Diana Davies from the '60s and '70s alongside the library's vast archives of LGBTQ+ history.
2. Visit the Leslie-Lohman Museum & LGBTQ Center
Located in Soho, the Leslie-Lohman Museum of Gay and Lesbian Art is a visual art museum that collects, preserves, and exhibits visual arts created by LGBTQ artists or art about LGBTQ themes, issues, and people.
There's a cafe on site (with wifi) and their online calendar of events serves as a useful resource for visitors to Manhattan. Stop by to pick up pamphlets and get your gay travel NYC questions answered!
3. Join the Stonewall 50 Commemoration Rally at the place where it all began
On June 28, from 6pm, LGBTQ community leaders will meet at the corner of Christopher Street and Waverly Place in front of The Stonewall Inn. Authors, activists, and presenters will gather to mark the exact 50-year anniversary of the Stonewall Uprising.
The event will include speeches and stage performances to remind us what happened in June 1969, celebrate what we've achieved, and inspire us to continue fighting for what still needs to happen.
4. Shop pride products & gender-neutral clothing at The Phluid Project
One of my favorite LGBTQ shops in NYC is The Phluid Project—a gender-neutral clothing shop and community meeting point that opened in 2018. The small cafe on the site hosts a number of events for local LGBTQ New Yorkers from all parts of the spectrum, and the clothing on offer is usually on-point!
Maybe you saw Samantha Bee and Patti Harrison's episode about the shop and their new tee? Lots of other cute products on sale—though sometimes a bit pricey if you're on a budget.
5. Explore NYC's Stonewall History at the Brooklyn Museum
Through December 2019, the Brooklyn Museum is also featuring an exhibit titled Nobody Promised You Tomorrow: Art 50 Years After Stonewall. Borrowing its title from the rallying words of transgender artist and activist Marsha P. Johnson, the exhibit focuses on the impact of the Stonewall Uprising through works by contemporary artists.
6. Learn about Camp Fashion at the Met
And on at the Metropolitan Museum for this spring's Costume Institute exhibit, Camp: Notes on Fashion features nearly 200 fashion objects from the 17th century to the present related to the camp aesthetic. The exhibition which opened with the annual Met Gala (co-hosted by none other than Lady Gaga), is partly inspired by the 1964 essay "Notes on Camp" by Susan Sontag.
Bonus: for New Yorkers, the Met Museum is also free (with proper ID), so it's a great option when dating in NYC on a budget!
7. Take an LGBTQ History Tour
In-between all the events and activities during Pride Month, make sure to set aside some time to discover NYC's unique LGBTQ history. Urban Adventures runs a fun pub crawl through Greenwich Village which features a lot of unexpected LGBTQ+ historical markers, in addition to the big historical highlights.
8. Send a World Pride postcard
With four million people in town for World Pride, you can expect the souvenir shops to be pretty crowded! Save some time and use your phone to get a custom-printed postcard to send back to your friends and family!
I love sending postcards when I travel, and as an ambassador for MyPostcard.com, I'm always using their app to create custom designs. There's an entire collection of LGBTQ and love-themed postcards that are great for Pride Month.
9. Glam up with a new 'do from a Soho Salon
Planning to watch the pride parade on June 30? Going to any of the gazillion pride parties hosted all over the city? Stand out and show up as your best self! For me, that means getting a fresh cut (and new hair color) at my go-to salon, Art+Autonomy in SoHo and my hair stylist & colorist @AddamArtist.
The whole crew at the salon always make me feel extra special—and pretty!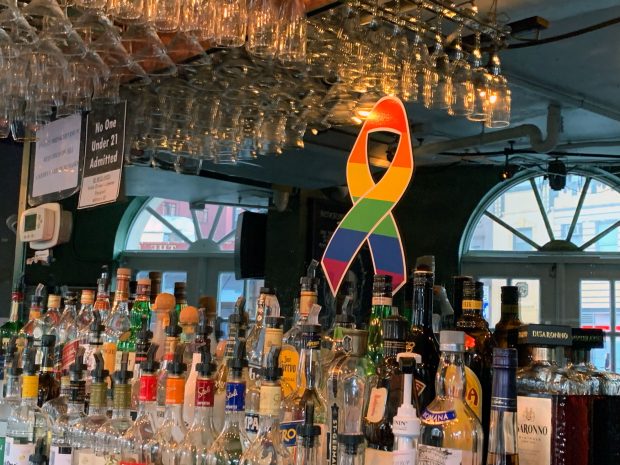 10. Shout and share your love with the city on the LinkNYC screens
The Shoutable app lets you post personalized messages LinkNYC screens across New York City. Throughout Pride Month, users can shout their love and support across the city with Pride-specific messages, or "shouts," to friends and family with LGBTQ inspired graphics.
For all of Pride Month, the LinkNYC screens are also showing historic images from Stonewall and beyond from photographer Fred McDarrah. Keep an eye out for them and the historic fun facts about New York City's LGBTQ history.
11. Join the World Pride March on June 30
On June 30, the annual pride parade will march through the streets of Manhattan. Starting at noon and expected to last up to 8+ hours, over 150,000 participants will be waving flags and glitter to celebrate.
Countless brands and sponsors will be there to promote LGBTQ+ rights and advocacy and with the millions of spectators, it's expected to be the largest LGBTQ+ pride event in the world.
12. Reclaim Pride at the Queer Liberation March
The Queer Liberation March is a people's political march—no corporate floats, and no police in the march. This year's Queer Liberation March on June 30 will retrace the steps of the original Christopher Street Liberation Day March of 1970
Those that want to participate will gather in Sheridan Square, march all the way up 6th Avenue, and end at a rally in Central Park's Great Lawn. It's an important cause that recognizes where the modern LGBTQ rights movement comes from, and how far there still is to go.
13. Get your perfect Instagram shot at one of 50 new LGBTQ street art murals
Listen, I'm no fan of Instagram, but I get that everyone's always looking for that perfect photo spot. And it seems that NYC Pride knows it, too!
The WorldPride Mural Project initiative features 50 local and international artists who were invited to create murals across all five boroughs of New York City. The murals are in a variety of spots and sizes and represent the full diversity of the LGBTQ community.
I'm not sure how many of the murals are planned to stay up after NYC Pride, but it's certainly added a lot of color to the city already.
---
Where to Stay for World Pride
Arlo Hotel in SoHo, Manhattan
With one of Soho's best rooftop bars, a hip lobby bar & café, and an excellent on-site restaurant called Harolds, the Arlo Hotel is one of the best places to stay during pride week.
Rooms are small but very comfortable—and convenient! Arlo SoHo also features one of the World Pride murals on one of their building's walls to celebrate the 50th Anniversary of the Stonewall Uprising and a half-century of LGBTQ liberation. Even if you don't book a room at the Arlo Hotel, check out their rooftop bar and don't miss the World Pride mural!
Aliz Hotel in Times Square, Manhattan
One of the newest hotels in NYC's Times Square, the Aliz Hotel is also home to Dear Irving—the highest open-air hotel bar in all of Manhattan on the 40th and 41st floors (and with excellent cocktails, too!).
Views from the rooms are great (south-facing rooms have views of the Empire State Building) and despite the relative small size of the hotel, rooms are comfortably sized with great amenities. A useful pride guide exists on the hotel website detailing special LGBTQ+ pride deals.
The William Vale in Williamsburg, Brooklyn
In the heart of hipster Williamsburg, The William Vale towers over the neighborhood with the absolute best view of Manhattan. For Pride Month, the hotel is hosting a number of LGBTQ events, including a pre-pride pool party, LGBTQ movie nights, and there's a pride-themed mural on the premises, too! Check the full William Vale calendar for event details.
Rooms at The William Vale are sleek and stylish, and stand out among other NYC hotel properties for their modern design. Every room on the property includes a balcony (book a corner suite for the best views) which just makes the whole experience that much more magical. Even if you're not planning to stay at the Brooklyn hotel, don't miss the rooftop bar Westlight for an amazing 360-degree view.
Check out more LGBTQ-friendly hotels in my full NYC LGBTQ hotel guide here
---
World Pride is going to be a lot of fun this year, and navigating all the events, protests, and parties isn't going to be easy. That's why I curated some of my favorite gay things to do in NYC for Pride.
It'll be impossible to do it all (and expensive), but hopefully this pride guide will make it easy and enjoyable to get the most of NYC Pride this year! Get the full calendar of NYC World pride events on their official website.
See you out there!
xoxo