February is traditionally the UK's LGBT History Month. Over the past few years as LGBT individuals have gained more and more equal rights, there's been a shift in traditional gay culture. And more of an understanding of what it's like to be gay.
"Being gay" is a diverse and uncommon trait, and with more discussion on the role of sexuality and gender in our world today, there's been a resurgence of LGBT culture. With that, the mainstream media is covering gender identity issues, trans rights, diverse sexual identities and a positive sex culture. That's led to increased events and festivals dedicated to LGBT audiences, serving as a point of reference for a diverse culture.
Gay pride events, since Stonewall, have been a focal point for gay culture for decades. But these days, with festivals dedicated to art, music, film and culture, there's so much more to the LGBT identity than pride. These eight gay events in Europe highlight some of this diversity.
Best Gay Events in Europe – LGBT Festivals to Visit in 2016
• • •
Queer Contact
Manchester, England
4-14 February 2016
contactmcr.com
Taking place annually during the UK's LGBT History Month, the Queer Contact festival takes place at the Contact Theatre in Manchester. The event celebrates LGBT arts and culture and this year's 8th annual festival is bigger than ever with 10 days of theater, music, dance, cabaret, comedy, spoken word and visual arts.
In addition to taking place at the hip Contact Theatre, Queer Contact hits several other venues around Manchester, including HOME, RNCM and Band on the Wall. With local, national and international artists, expect a diverse array of events covering everything from sexuality, gender, religion, politics and history.
Ticket prices from just £3! Learn more at contactmcr.com. For other Manchester travel tips, get the full Hipster Guide to Manchester here.
• • •
Berlinale Teddy Award
Berlin, Germany
11-21 February, 2016
teddyaward.tv
The only official LGBTIQ (in short, queer) film prize at an A-level festival in the world is celebrating its 30th anniversary in 2016. The Teddy Award is an offshoot of the Panorama section of the Berlinale International Film Festival, with prizes awarded since 1987 in the categories Short Film, Documentary and Feature to works relevant to queer culture.
This year's anniversary program will present a total of 16 LGBT films. For 2016, the Teddy has put together an anniversary program including rarely seen works, some of which were made before the award came into existence, and were also why it was established in the first place. One such film is by Richard Oswold, a premiere of the restored Anders als die Andern (Different from the Others, Germany 1919)—the first gay film in cinematic history.
Ticket prices for the Berlinale screenings from 4€. Learn more at teddyaward.tv. For other Berlin travel tips, get the full Hipster Guide to Berlin here.
• • •
Lou Queernaval
Nice, France
19 February 2016
lou-queernaval.com
Nice, France is home to one of the world's largest carnival celebrations every February. It goes on for almost a full month with parades held just about every day, sometimes twice per day! This year marks the second annual Lou Queernaval part of the Nice Carnaval—it's the gay-themed night during the festival.
With live bands, dancers, traditional carnival floats and local LGBTQI organizations throwing glitter and confetti across the Place Massena, it's a really energetic night full of fun. While the main event takes place on the Friday night, local gay-friendly businesses keep the party going all weekend with special events.
Lou Queernaval is a free event. Learn more at lou-queernaval.com. For more photos of the Lou Queernaval 2015 festival, click here.
• • •
Pink Week
Ljubljana, Slovenia
26-29 May 2016
pinkweek.eu
Slovenia might not make it on most gay travel destination lists, but the organizers of the annual Pink Week Slovenia are trying to change that. Slovenia is a great place for the modern traveler, with breathtaking scenery, exquisite cuisine and a cool, hip capital city with great museums and culture. This year marks the third annual Pink Week, with a program that includes three nights in Ljubljana, an overnight glamping safari at Lake Bled and a gala called the Dragon's Ball.
Packages to attend Pink Week start from 399€. Learn more at pinkweek.eu. For other Ljubljana travel tips, get the full Hipster Guide to Ljubljana here.
• • •
Yo! Sissy Festival
Berlin, Germany
29-31 July 2016
yosissy.com
After a successful Kickstarter funding, the 2nd annual Yo! Sissy Festival takes place in Berlin this July with over 40 different LGBT artists taking the stage at different queer-friendly venues. Last year's premiere festival included international acts from 15 different countries, such as Peaches, Crystal Waters, JD Samson, CHRISTEENE, The Hidden Cameras, Cakes da Killa, Hi-Fashion, Hard Ton and many more. The festival aims to promote Berlin's burgeoning diversity within the queer community, with a special emphasis on female and trans* identified artists.
Ticket prices will be announced later in the year. Learn more at yosissy.com. For more photos of the Yo! Sissy 2015 Festival, click here.
• • •
Milkshake Festival
Amsterdam, Netherlands
30-31 July 2016
milkshakefestival.com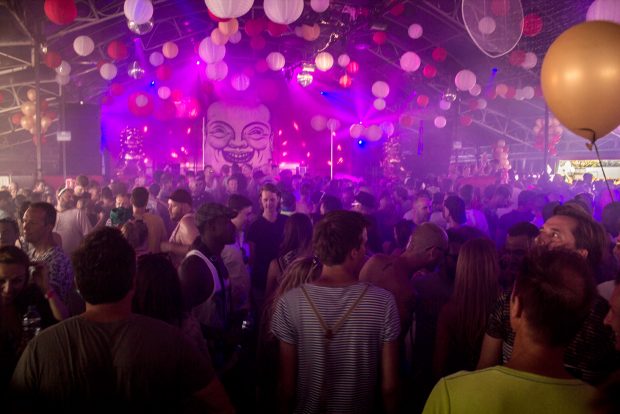 Amsterdam's coolest and queerest event is the annual Milkshake Festival, celebrating it's 5th anniversary in 2016. Taking place outdoors in Amsterdam's Westerpark, over 40 different artists and DJs perform across at least nine different stages. The theme of the weekend festival is "for all who love" and, with no dress code, the Milkshake is often crowded with colorful costumes reminiscent of a '90s rave. Expect lots of glitter, fast friendships and a safe environment for all manner of vices. This year's lineup includes international acts from Supertoys, Cirkus Klauterwerck, Rapido, Hausbound and many more.
Ticket prices for the Milkshake Festival start at just 36€ for early-bird deals. Learn more at milkshakefestival.com. For more photos of the Milkshake 2015 Festival, click here.
• • •
Fringe Festival
Edinburgh, Scotland
5-29 August 2016
edfringe.com
While it's not explicitly a LGBT festival, for the month of August, Scotland's capital city turns into a mecca of creativity. The Fringe Festival regularly gets press for its huge diversity of performances, and for the past several years, many of those have included gay or LGBT themes. In fact, during the 2015 Fringe Festival, one such performance came away with the festival's most prestigious award. And naturally, because of the large amount of international performers and creatives in Edinburgh during the month—whether as spectators or performers, there's just a great big gay vibe in the city.
Besides the Edinburgh Fringe Festival, Edinburgh transforms each August into a creative hub with other simultaneously interesting festivals, including the Edinburgh International Festival (theater), Edinburgh Art Festival (art), Edinburgh International Book Festival (literature) and the Edinburgh Mela (dance). Thousands of people flock to the city during these festivals, making it one of the summer's best gay destinations.
Ticket prices vary by performance. Learn more about Edinburgh's festivals each August at edinburghfestivalcity.com. For more stories and reviews from the Edinburgh Festivals, click here.
• • •
The Outing
Lisdoonvarna, Ireland
7-9 October 2016
theouting.ie
With Ireland becoming the first country in the world to achieve marriage equality by the popular vote, Ireland quickly gained the attention of LGBT advocates around the world. The annual festival, The Outing, capitalized on this momentous occasion and in 2016 will see its fourth edition as Ireland's only music and matchmaking festival. The event takes place as the LGBT offshoot of the historic matchmaking festival in Lisdoonvarna—a craic-filled weekend on Ireland's Wild Atlantic Way featuring pop-up nightclubs, drag performances, film screenings (partnered with the local GAZE Film Festival) and live music and arts.
Package deals for The Outing in Lisdoonvarna start at 199€ for the weekend. Learn more at theouting.ie. For more photos from The Outing 2015 Festival, click here.
• • •
For more about gay events and festivals in Europe, subscribe here for future updates to the Travels of Adam blog.