Germany, as it turns out, is a great destination for gay and lesbian travelers. According to a recent study from Berlin's Dalia Research GmbH, Germany has the largest LGBT population in Europe—estimated at 7.4%. This despite the lack of federal recognition for full same-sex marriage. Germany is still relatively progressive with its LGBT equality laws, offering same-sex adoption, civil unions (lebenspartnerschaft), and the legal right to change gender. Germany has long been a hotspot for LGBT tourists, and the news out this week about the country being one of Europe's most queer, is only going to help.
[box]
Related: Europe's 12 Most LGBT-Friendly Cities
[/box]
The welcoming country offers countless cultural experiences—everything from extreme nightlife to wine-tastings in the countryside. Germany's largest cities are also home to large gay and lesbian populations and plenty of activities to keep any discerning tourist happy.
• • •
Gay Guide to Germany
Gay Cologne
Everything I heard from Germans before first visiting Cologne is the fact that it's Germany's biggest gay city. Berlin may have the international reputation as one of the coolest cities in the world, and its nightlife is legendary, but Cologne apparently has locked down the title as Germany's Most Gay City.
As Germany's fourth largest city, Cologne is big but not overwhelming. The population is diverse and while the city is spread out, it's completely manageable with easy public transportation. Downtown near the Deutz Bridge is the Heumarkt—the center of Cologne's summer Christopher Street Day gay pride, but, the best area to spot Cologne's many hip cafes & trendy bars is around Rudolfplatz and the Belgian Quarter. The three neighborhoods make up what is called Colongne's "Bermuda Triangle" of gay life.
Café Rico at Rudolfplatz is a popular hangout for more than just gays with a reputation as one of Cologne's best brunches. Nearby you'll find the equally popular gay bar Bastard, with an outdoor garden popular on summer evenings. The Kettengasse street is home to Germany's most popular gay shop: Bruno's—where you'll find books, magazines, DVDs and fashion…plus brochures and information on local LGBT initiatives and hotspots. In Cologne, you'll also find a memorial to the gay and lesbian victims of the Holocaust—one of just three in Germany.
Also in the area is Cologne's main shopping street, Schildergasse, where most international brands have their shops. But in the fashion-friendly Cologne, the best fashion is often found in the boutiques and independent stores throughout the Belgian Quarter. Spend some time wandering around Brüssler Platz for fine international food, trendy pubs and great shopping. The Magasin 2 shop features men's & women's fashion, and their sister shop around the corner sells music records. For nightlife, stay close to Brüssler Platz and check out the young & hip all-night club Sixpack, or a short walk away is Schaafenstraße where you'll find the city's gay nightlife.
[box]
Read more: Hipster Guide to Cologne
[/box]
Gay Berlin
"Berlin! Berlin! Wir fahren nach Berlin!." ("Berlin! Berlin! We're going to Berlin!")
Berlin—the city of history & hipsters, fashion & freedom. It's often called "the place to be" and thanks to its friendly environment, all-night lifestyle and enough restaurants & shops to keep you busy for a lifetime, Berlin is one of Europe's greatest cities. Thanks to its unique history and growing diversity, Berlin is also incredibly queer-friendly.
Berlin's gay history goes back to the 1920s when the capital city was a hotspot for artists & intellectuals—not that much different than the city's current reputation as Europe's creative & cultural capital. International artists and an open-minded attitude have turned Berlin into a city full of life. Gay-friendly cafes and bars can be found throughout the city, though historically the streets around Nollendorfplatz in Schöneberg were the gay-friendly hotspots. Today you'll find an entire museum dedicated to Berlin's gay history: the Schwules Museum.
And yet today, much of Berlin's life is further east in the neighborhoods of Kreuzberg, Neukölln, and Friedrichshain. From legendary hetero-friendly clubs like Berghain to small dance clubs like Zum Schmutzigen Hobby (run by Berlin's drag queen star Nina Queer), Berlin is far from boring. Popular gay club nights include themed nights at SchwuZ, the Sunday night GMF party or monthly parties such as Gegen at KitKat Club or Cocktail d'Amor at Greissmühle.
Besides nightlife, Berlin has plenty to offer—whether it's trendy cafes (try Silo Coffee in Friedrichshain), boutique shopping or more history than can easily be consumed. The city is home to hundreds of museums spanning everything from German TV and cinema (the Deutsche Kinematek) to WWII and soviet history museums.
[box]
Read more: Hipster Guide to Berlin
[/box]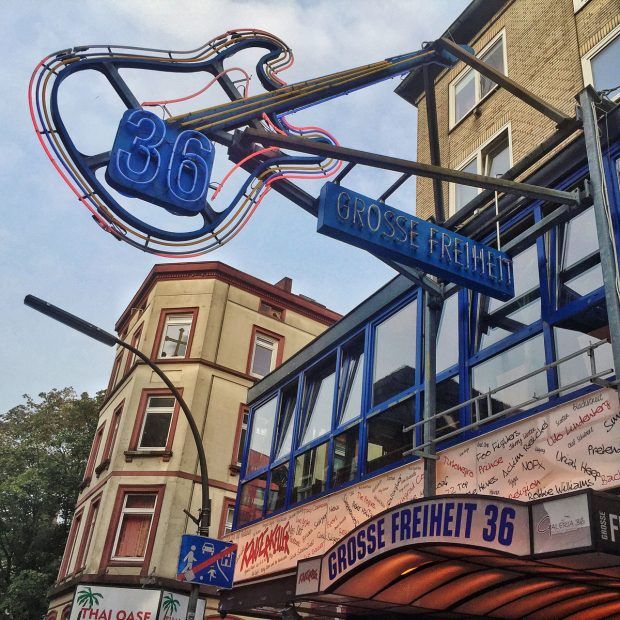 Gay Hamburg
The northern port-city of Hamburg is home to every type of character imaginable. As one of Germany's more iconic cities for tech start-ups and other creative & media professions, it's had a long history as one of the country's more vibrant, creative cities. The alternative neighborhood of St. Pauli and the more yuppified (ie, trendy) area of Saint Georg are popular for tourists and locals alike. It's a great weekend city with a nightlife that lasts until dawn (and then a Sunday fish market that opens as the clubs close). The legendary Reeperbahn area has a mix of sex clubs, seedy bars and greasy food. It's the famous red-light district of Hamburg, but the city is so much more.
A short walk from the seedy strip clubs & nightclubs along the Reeperbahn to hip & trendy bars in the Schanzenviertel brings to the front a whole other side of Hamburg. The Schanzenviertel is home to former art squats turned nightclubs (try Haus 73 for as a cool nightclub). Much of the gay nightlife is just off the Reeperbahn on Talstrasse, but the nearby Hamburgerstrasse has plenty of queer-friendly bars mostly full of twenty-something hipsters. 3 Zimmer Wohnung is a popular gay bar & club—a kitschy interior and a basement made for underground dance parties. Hamburgerstrasse is a street where you'll find many young locals—hipsters and students playing kicker in smokey dive bars.
Hamburg has as many art & boutique shops as bars. The Karolinenviertel neighborhood is home to shop-after-shop with local designer goods (Herr von Eden is a famous men's fashion design shop for those with bigger budgets). To really embrace the Hamburger lifestyle, though, it's best to shop local. Try the shop Hanseplatte for local music selections. For art-lovers, Hamburg has everything from the big-city museums (Hamburger Kunsthalle) to small galleries and boutiques selling local designer products & fashion (Kaufhaus Hamburg).
[box]
Read more: Hamburg for Creatives
[/box]
• • •
Whether it's fashion in Cologne, nightlife in Berlin or Hamburg's trendsetters that you're after, most German cities are great for city breaks. Popular gay events happen year-round throughout the country—from the summertime Christopher Street Day parades to LGBT film festivals and even an LGBT Christmas market in Munich. Germany is the queerest country in Europe, after all!
Read more travel tips and stories for Germany here.