Guide to Berlin's best neighborhoods with recommendations on things to do in Kreuzberg, Neukölln, Mitte, Friedrichshain, Prenzlauer Berg & Schöneberg
It's the time of year when lots of people start planning their holidays to Berlin. (Sidenote: yes, Berlin is a great winter destination!) So naturally my friends have been emailing me asking for tips on where to stay, which hotels are the trendiest/coolest and what's going on this winter.
Berlin is very much a neighborhood-oriented city. For those lucky enough to live here, you might go days without ever even leaving your kiez (that's German for neighborhood; bezirk is German for borough or district).
I try not to do that too often, though, because Berlin—being as awesome as it is—is a pretty damn exciting city. And staying holed up in my super-cool Berlin apartment is only fun for so long. Instead I try to make my way to the countless events and meetups happening just about every day.
When I moved to Berlin, it being one of my first homes where I was planning to stay awhile, I had the lucky (or unlucky, depending upon how you look at ti) chance to live in a variety of different areas of Berlin. From Pankow to Prenzlauer Berg, Kreuzberg, Neukölln, Lichtenberg, Friedrichshain and even Grünewald — I've lived all over this sprawling city.
So if you're looking for a place to stay during your trip, I've got all you ever needed to know here. Look for an Airbnb apartment in one of these neighborhoods near my favorite kiez highlights…
Where to Stay in Berlin – Guide to Berlin's Best Neighborhoods
Public transportation is never really a problem in Berlin and all these neighborhoods I'm recommending below are well-connected and easy to reach from the airports.
The TXL airport is pretty much in the center of Berlin so even taxis are an economical option for getting from the airport to your hotel/holiday apartment. These are the main 'hoods and what's going for them….
---
Where to Stay in Kreuzberg, Berlin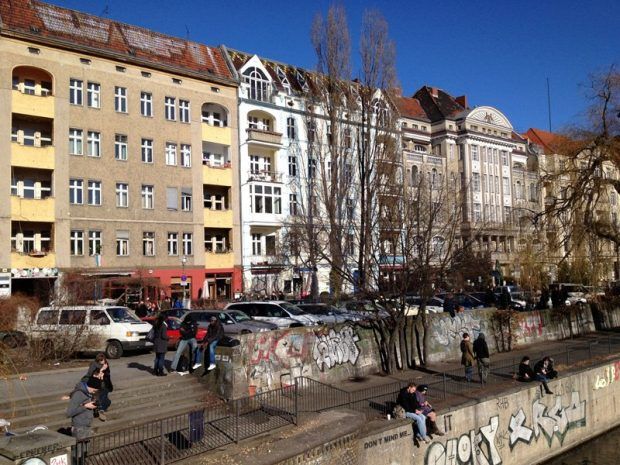 Affectionally called Xberg, this centrally located Berlin neighborhood is home to the city's traditional Turkish immigratns, hipsters, Berlin's best bars and a whole lot of restaurants.
It's the Brooklyn equivalent of something between Williamsburg and Park Slope. Gentrification is in full swing here. In fact, Kreuzberg is just about fully gentrified these days, though some areas less so than others.
Kreuzberg (Xberg) Highlights
---
Where to Stay in Neukölln, Berlin
The Neukölln neighborhood is slightly less easily connected, but has plenty of great things to offer for Berlin locals and tourists. Despite the neighborhood appearing on just about every "cool things in Berlin" list, the area is still not so popular with weekenders and holiday-makers. Which means if you go there now, you'll be way more cool than your friends :)
Neukölln is heavy on the dive bars. Here are the words I'd use to describe it: Turkish, real hipsters, cheap bars, fun, weekends, underground clubs, burgers, gay, trendy…
Neukölln Highlights
---
Where to Stay in Mitte, Berlin
The Mitte neighborhood is essentially the center of Berlin. It's where you'll find the TV Tower, Alexanderplatz, Museum Island and most tourists. It's also great for shopping. Being the center of Berlin, there are approximately one million hotels in Mitte. Though not a lot of local apartments — it's prime real estate so there's not a lot of living to be done there.
If you're short on time and want to be close to Berlin's top tourist attractions, Mitte is where you'll want to be. But if you're after a more unique Berlin experience (0r here for the fun and the nightlife), there are probably better 'hoods. Still, Mitte's got a lot going for it…
Mitte Highlights
---
Where to Stay in Friedrichshain, Berlin
This Berlin neighborhood, a part of the former East Berlin, is close to everything and also has the fortune to be home to Berlin's best nightclubs. It's definitely an "alternative" side to Berlin, but with all the expats and family-friendly parks, it's just a great place to be located.
Friedrichshain Highlights
---
Where to Stay in Prenzlauer Berg, Berlin
One of my favorite neighborhoods in Berlin. Seriously. Many people (including many locals) have completely discredited Prenzlauer Berg. Part of the former East, it was the first part of Berlin to be considered "alternative" when the Wall came down; and, then, the first to become fully gentrified.
These days it's home to a lot of families, transplants from elsewhere in Germany, abroad or even the occasional Berliners. Prenzlauer Berg is seen as distinctly "uncool" but that's just because those people don't know where to look!
Prenzlauer Berg is also very green, with lots of great parks and outdoor areas. It straddles Volkspark Friedrichshain but also is the Berlin district home to the famous Mauer Park.
Prenzlauer Berg Highlights
---
Where to Stay in Schöneberg, Berlin
Historically, Schöneberg was one of the world's first gay neighborhoods. Or at least it feels that way. These days, Schöneberg still maintains its gay place in Berlin's history, but to be honest, the best gay bars aren't here anymore; they've all moved to the up-and-coming (or has it already come?!) Neukölln.
Schöneberg, though, is still one of the prettiest parts of Berlin (helped by its name which translates to "pretty mountain/hill"). It's very residential, though, so you might find yourself further away from Berlin's best action if you base yourself here.
Schöneberg Highlights
***
Other Berlin Alternative Neighborhoods
Obviously there's a lot more to Berlin than the neighborhoods above. Charlottenburg is a good 'hood, with some cool restaurants (I like Schwarzes Café) and off-the-beaten-path museums.
There's Wedding and Moabit — both touted as up-and-coming, though they're still pretty boring in my books.
Admittedly, Wedding has some good restaurants (like Pierogarnia for Polish pierogies) and some severely underrated nightlife venues.
Moabit has the local-favorite Arminusmarkthalle—a food market hall with a great selection of restaurants and food stalls, including my favorite Berlin barbecue joint, Pignut. But generally, I think if you've only got a short period of time to hang out and explore in Berlin, stick to the more central neighborhoods.